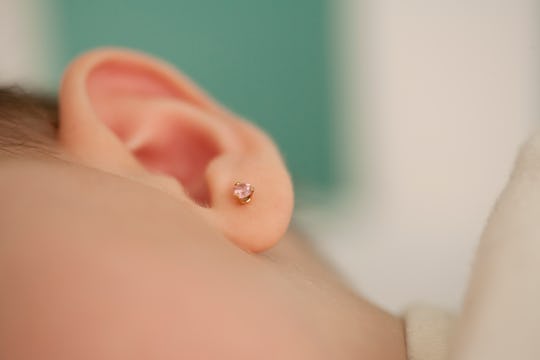 PhotoAlto/Ale Ventura/PhotoAlto Agency RF Collections/Getty Images
13 Best Hypoallergenic Baby Earrings With Safety Backs
Piercing a baby's ears is appealing for many reasons. To state the obvious, it looks darling. Second, you spare a child a pain that could be far more traumatic at an older age and get the entire experience out of the way before they can remember it. But one thing to consider before you book a piercing appointment is the risk of allergy. That's why hypoallergenic baby earrings with safety backs are a good choice. Designed to have little to no metals that could cause a reaction, your baby will likely have a lower risk of allergic reaction and their skin will be protected by the safety backs that cover the earring post.
But before you start shopping for the best hypoallergenic baby earrings with safety backs, it's important to understand what metals can cause a reaction and what to look for in hypoallergenic earring options.
Is it safe to pierce baby's ears?
Take it from a dermatologist and a mom, Dr. Rhonda Farah, assistant professor in the Department of Dermatology at the University of Minnesota, who says, "Yes, it's safe to pierce a baby's ears." But, she adds, you should keep a few things in mind as you prepare to get your baby's ears pierced and invest in the best hypoallergenic baby earrings with safety backs.
Allergies
The first issue is that the common metals that earrings are made of can cause allergic reactions. Nickel, for instance, can lead to allergic reaction. In fact, it's estimated that 10% of people in the U.S. have a nickel allergy, according to the Cleveland Clinic. But that's not the only metal of concern. Cobalt and chromium are also common culprits as well. If you know your child has an allergy to one of those metals or another metal commonly used in jewelry, or are concerned they might, the best choice is to opt for hypoallergenic baby earrings.
"Hypoallergenic means that there's been an attempt made to lower risk of a skin reaction," says Farah. For example, that might mean minimizing the use of nickel in a pair of earrings or making them nickel-free altogether.
That said, Dr. Paul Bigliardi, a colleague of Dr. Farah's and professor and director of Dermato-Allergy Division Department of Dermatology at the University of Minnesota, adds that people should take the term "hypoallergenic" with a grain of salt. "Hypoallergenic doesn't mean much," he says. That's because though "a pair may be nickel-free, but that won't prevent a reaction if the earrings are gold and someone has an allergy to gold."
The good news is that "metal allergies in babies are pretty rare," says Bigliardi. "Those allergies start in a later phase in life."
You'll know pretty quickly if your baby does, in fact, have an allergy to a metal used in an earring. "The ears will be generally itchy, red, and or scaly," explains Farah. Should that happen, take the earrings out immediately. "To keep the hole, you can put in different earrings made of a different material," she adds. But note, an allergy is different from an infection. "If the ear is painful or there's puss, this isn't an allergic reaction, it's an infection and you should have it treated," says Farah. Another clue is if this sort of reaction happens in just one ear. If that's the case, it's almost certainly not an allergic reaction.
If you'd rather avoid the guessing game you might have to play if your baby does appear to be allergic to certain earrings, you have two choices: only purchase hypoallergenic baby earrings with safety backs and/or take your child to a dermatologist or pediatric dermatologist and have them tested for contact allergies (those having to do with the skin) prior to getting their ears pierced. This can help rule out potential irritants before they get earrings.
We only include products that have been independently selected by Romper's editorial team. However, we may receive a portion of sales if you purchase a product through a link in this article.
When considering baby earrings, remember the best choice is to choose hypoallergenic brands to avoid the risk of an allergic reaction. Then find a reputable piercer and make sure the pair you choose has safety backs to ensure your baby's comfort.
Experts
Dr. Ronda Farah, Assistant Professor, Department of Dermatology at the University of Minnesota, med.umn.edu/bio/dermatology/ronda-farah
Dr. Paul Bigliardi, Professor, Department of Dermatology at the University of Minnesota, med.umn.edu/bio/dermatology/paul-bigliardi
Studies referenced
Fowler, J., Jr, Taylor, J., Storrs, F., Sherertz, E., Rietschel, R., Pratt, M., Mathias, C. G., Marks, J., Maibach, H., Fransway, A., DeLeo, V., & Belsito, D. (2001). Gold allergy in North America. American journal of contact dermatitis : official journal of the American Contact Dermatitis Society, 12(1), 3–5.