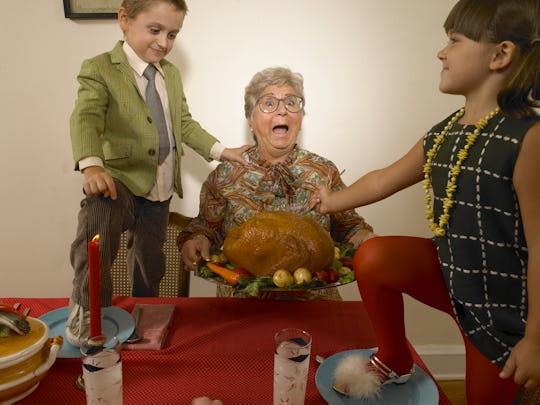 Bill Diodato/The Image Bank/Getty Images
25 Icebreakers For Thanksgiving Dinner, Because Your Family Is *Awkward*
Things can get uncomfortable, fast.
We may receive a portion of sales if you purchase a product through a link in this article.
As far as decadent dinners go, Thanksgiving ranks right up there at the very top. And as one of the most memorable meals of the year, you'd think that everyone would be on their best behavior sitting around the table. Well, you'd be wrong. Family fights are par for the course during this marathon eating sesh, and can occur during any course actually, from starters right down to the dessert. So to ease the tension (and focus on that delish turkey instead), you might need to break out any one of these icebreaker ideas for Thanksgiving dinner. Because having to chug Tums post-meal is so unpleasant.
But you think, We're family. Why do we need icebreakers? Chances are, you probably don't know everyone as well as you think you do. Plus, there might be some new faces 'round the table this year who are looking for a way to be a part of the conversation without inadvertently fueling a full-on family fight. (It's a lot of pressure, for sure.) And games are a good way to level the playing field (ha) and encourage everyone to engage with each other in a more agreeable way.
From silly to slapstick, tattoos to toilet paper, there's something for everyone with these 20 icebreakers for Thanksgiving dinner. There's even one that involves… murder. (Just don't get any ideas, though.)
Friends and family members young and old can get to know each other better (either excitedly or reluctantly) through bouts of laughter with these fun Thanksgiving icebreaker ideas.
This article was originally published on