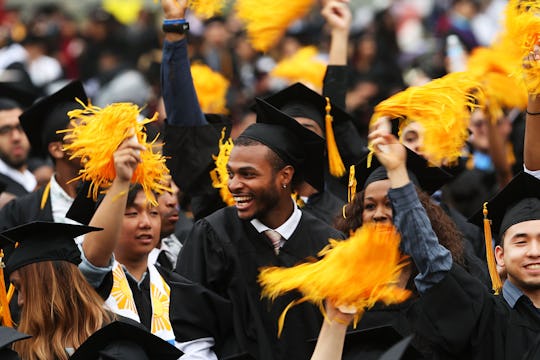 Spencer Platt/Getty Images News/Getty Images
These High School Graduation Speeches Will Give You Hope For Our Future
They'll give you something to believe in.
Sitting through a graduation ceremony is rarely one of the most fun activities ever, even if you're among the people chilling in a robe, eager to get that diploma. But as the most inspirational high school graduation speeches prove, recent grads are breathing new life into these ceremonies. In addition to all the traditional pomp and circumstance, the best high school graduation speeches are humorous, heartfelt, and honest. Seriously, these young adults understand how to work a crowd.
And as you might expect from a group who grew up with social media, generation Z graduates are poised and confident behind the microphone, delivering speeches with ease. Seriously, it's stunning to remember these speech-givers are only in their late teens, and possibly addressing a large crowd for the first time. And these speakers aren't afraid to take on serious topics. In fact, many of the students use their high school graduation speeches to address issues affecting Black and BIPOC communities, LGBTQ representition, and the experiences of immigrant families. The honest emotion and care these young adults have for the wellbeing of others is inspiring. Here are some of the most popular high school graduation speeches YouTube has to offer that are sure to make you laugh and maybe cry a little, too.
Even if your own graduation was decades ago, you can't help but be inspired by the hope these young people have and their bright visions for a better world.
This article was originally published on