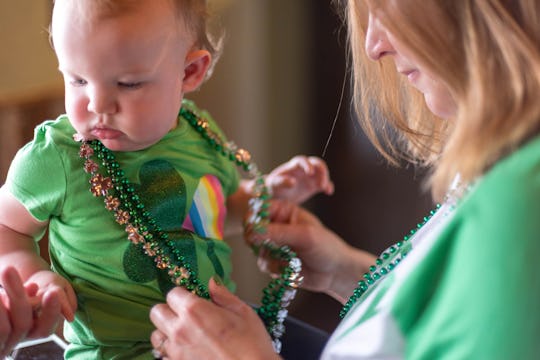 Kristen Prahl / EyeEm/EyeEm/Getty Images
Instagram Captions To Celebrate Baby's First St. Patrick's Day
Because their adorable green outfit must be documented.
Every holiday in your baby's first year is cause for celebration, even the minor ones. It's so much fun to pick out a St. Patrick's Day outfit for your baby and snap festive photos. While March 17 isn't a major gift-giving holiday like Christmas or a big milestone like a first birthday, your baby's first St. Patrick's Day is still totally worth celebrating with a fun Instagram post.
Dress your baby up in head-to-toe green, let them grab a fistful of shamrocks, nibble on some Lucky Charms, and take some adorable pics of your little leprechaun to post with one of these Instagram captions for baby's first St. Patrick's Day.
Cute Instagram Captions For Baby's First St. Patrick's Day
Cutest clover in the patch.
Irish kisses and shamrock wishes.
Little lad's first St. Patty's Day!
Look who we found at the end of the rainbow.
Our little pot of gold.
Sham-rocking this little one to sleep.
She may be wearing green, but I'm gonna pinch those cheeks.
Any excuse for a festive look, I say.
Happy St. Patrick's Day to our own little four-leaf clover.
She's not ready for corned beef and cabbage yet, but she's still a happy little lass.
Instagram Captions For Baby's First St. Patrick's Day About Luck
Lucky, blessed, and all the rest.
Here's my lucky charm!
Just our luck! We get to celebrate Baby's 1st St. Patrick's Day today!
May not have found the pot of gold, but boy are we still lucky.
Our good luck charm.
Who needs luck? We have this little charm.
Not lucky, just blessed
Funny Instagram Captions From Baby's Perspective
Irish you a happy St. Patrick's Day!
I'm feeling a little green today.
Kiss me, I'm Irish!
I pinch back.
The leprechaun made me do it.
The Paddy don't start 'til I walk (crawl) in.
Who's ready to sham-rock?
They're always after me lucky charms.
Just a wee bit Irish.
It's easy being green today.
A wee bit o' trouble.
Irish you a happy St. Patrick's Day!
Ginger hair, don't care.
Pinch me if you dare.
My mom made me wear green.
I promise I'm not a leprechaun.
My mom says I'm quite charming.
My dad said something about a pint of Guinness?
This article was originally published on