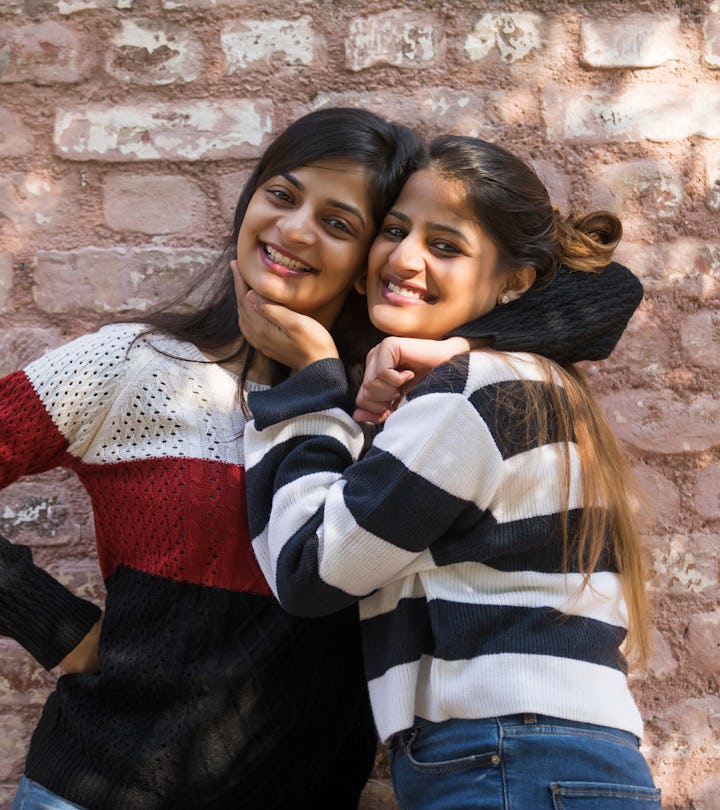 IndiaPix/IndiaPicture/IndiaPicture/Getty Images
30 Instagram Captions For National Cousins Day
Quotes and phrases to dedicate to the family you didn't ask for, but love anyway.
Cousins are such special family members to have growing up. They're built-in best friends and you all have a shared history between your parents. And if you're really lucky, you get to grow up being close to them like siblings, especially if you're an only child like I was. Though we all have our own, very different, lives now, living far apart and with our own families, I plan to honor my cousins and bring a smile to their faces by sharing a fun old photo of us on National Cousins Day on July 24. If you're looking for some Instagram caption ideas for National Cousins Day, here are some quotes and phrases that are perfect for the occasion.
Quotes about cousins
"Cousins are people that are ready-made friends, you have laughs with them and remember good times from a young age, you have fights with them, but you always know you love each other, they are a better thing than brothers and sisters and friends cause they are all pieced together as one." — Courteney Cox
"In my cousin, I find a second self." — Isabel Norton
"You don't choose your family. They are God's gift to you, as you are to them." — Desmond Tutu
"I always call my cousin because we're so close. We're almost like sisters, and we're also close because our moms are sisters." — Britney Spears
"Never judge someone by their relatives." — Charles Martin
"Cousins are more than cousins; they are best friends that are there for us through it all." – Heather Mills
"Cousins are the barometers of how fun a family get-together will be. Are the cousins going to be there? Fun." – Jim Gaffigan
"Family is not an important thing. It's everything." — Michael J. Fox
"Born as a cousin, made as a friend." — Byron Pulsifer
"Other things may change us, but we start and end with family." — Anthony Brandt
Funny Instagram Captions For National Cousins Day
God made us cousins because He knew our mothers couldn't handle us as siblings.
Nobody will understand the craziness of your family better than your cousins.
A cousin a day keeps the boredom away.
Dear cousins, I wouldn't have survived boring family functions without you.
Every man sees in his relatives, and especially in his cousins, a series of grotesque caricatures of himself.
Happiness is having crazy cousins.
Grandma's house — where cousins become best friends.
Never underestimate the power of a cousin.
No one will ever be as entertained by us as us.
Cousin to cousin, we'll always be a couple of nuts off the family tree.
Sentimental Instagram Captions For National Cousins Day
Our roots say we're cousins. Our hearts say we're friends.
Cousins are the friends who love you from birth.
Cousins are these childhood playmates that grew up to be forever friends.
"A cousin is a little bit of childhood that can never be lost." — Marion C. Garretty
We didn't realize we were making memories, we just knew we were having fun.
Cousins are usually the first friends we have as children. They're the best of both worlds because they're family and friends at the same time.
Time passes and we may be apart, but cousins always stay close at heart.
"My cousins are shareholders of my soul." — Saswat Padh
Talking to your cousin is sometimes all the therapy you need.
Our roots say we're cousins. Our hearts say we're friends.
Post that embarrassing picture of you and your cousins from when you all had toothless grins, skinned knees, and lots of love on your faces on National Cousins Day on July 24. Even better, try to recreate that photo all together in similar clothing and the same poses to see how much you've changed, just be sure to include a sweet Instagram caption to go along with it.
This article was originally published on