National Grandparents' Day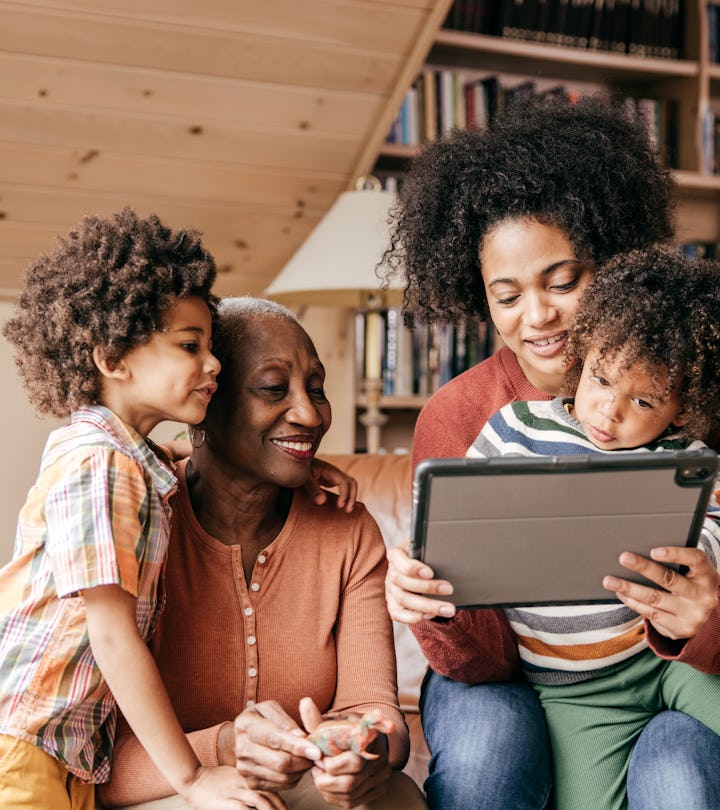 kate_sept2004/E+/Getty Images
Show Your Love With These Instagram Captions On Grandparents Day
These captions will help you celebrate all of the reasons they're so grand.
It can be hard to put into words how much you love someone. To celebrate National Grandparents' Day on September 11, why not take some inspiration from these quotes and share all the emotions you're feeling? You might find the perfect Instagram caption to go with a funny memory that you're excited to share. Or you may find the phrase just perfect for expressing the love, or even the aching loss, you feel in your heart on Grandparents' Day. These heartfelt quotes, discovered in books, movies and songs, can be used as Instagram captions for Grandparents' Day for any number of moments.
Think about posting a throwback photo of little you and your grandparents, or describing a holiday memory or tradition you continue to practice. Or how about sharing a proud photo of yourself, mastering a task that a grandparent taught you, like gardening or fishing? There are Grandparents' Day Instagram captions here that'll help tell your story with humor and kindness. And if you yourself are a grandparent, there are even a few captions here that'll make it easy to share the love you have for your family. However you choose to celebrate the day (cake is always a good idea), sharing the love amongst family can make it all the sweeter.
Loving Instagram Captions For Grandparents' Day
There's no place like home. Except Grandma's house.
"I used to think I was too old to fall in love again, then I became a grandparent." – Author unknown
"If God had intended us to follow recipes, he wouldn't have given us grandmothers." – Linda Henley
The best parents get promoted to grandparents.
"A grandmother is a little bit parent, a little bit teacher, and a little bit best friend." – Author unknown
"Nobody can do for little children what grandparents do. Grandparents sort of sprinkle stardust over the lives of little children." – Alex Haley
"They'll be times when you want to hold on but you gotta let go. And I live by those words 'cause Grandpa told me so." – Kenny Chesney, "Grandpa Told Me So"
"I want to show you the wind and how it bends the grass. I'm waiting to give you bear hugs – the kind that last and last." – Billy Crystal, I Already Know I Love You
"I want to teach you about our family with pictures from long ago. You're the new twig on our tree, and I can't wait to watch you grow." – Billy Crystal, I Already Know I Love You
"Grandpa, maybe you could come over and read it again to me tomorrow?" – The Grandson, The Princess Bride
"Every night and all day through, the one I'm thankful for is you." – Hoda Kotb, You Are My Happy
"You are my happy." – Hoda Kotb, You Are My Happy
"I love the special things I do with you." – Daniel Tiger
"Your hugs are very squeezy." – Daniel Tiger
"And through it all she offers me protection, a lot of love and affection, whether I'm right or wrong." – Robbie Williams, "Angels"
"Grandma's love is what made grandma's garden grow." – Zac Brown Band, "Grandma's Garden"
Funny Instagram Captions For Grandparents' Day
"Becoming a grandmother is wonderful. One moment you're just a mother. The next you are all-wise and prehistoric." – Pam Brown
"To a small child, the perfect grandad is unafraid of big dogs and fierce storms but absolutely terrified of the word 'boo.'" – Robert Breault
"When grandparents enter the door, discipline flies out the window." – Ogden Nash
"Grandchildren: the only people who can get more out of you than the IRS." – Gene Perret
"If I had known how wonderful it would be to have grandchildren, I'd have had them first." – Lois Wyse
"If your baby is beautiful and perfect, never cries or fusses, sleeps on schedule and burps on demand, an angel all the time, you're the grandma." – Teresa Bloomingdale
"The simplest toy, one which even the youngest child can operate, is called a grandparent." – Sam Levenson
"We have to be grand! It's in the title!" – Pat Spence (aka Grandma), The Middle
"Can you play that game where you throw us up and catch us?" – Peppa Pig, Peppa Pig
"When you babysit a grandma, if you're lucky…it's a sleepover at her house." – Jean Reagan, How To Babysit A Grandma
"Gingerbread? That's a December craft." – Ruby, Black-ish
Missing You Instagram Captions For Grandparents' Day
"My grandmother taught me everything except how to live without her." – Unknown
"The sorrow we feel when we lose a loved one is the price we pay to have had them in our lives." – Rob Liano
"What is there to do when people die — people so dear and rare — but bring them back by remembering?" – May Sarton
"I'm a flower, poa, a flower opening and reaching for the sun. You are the sun, Grandma, you are the sun in my life." – Kitty Tsui
"Over the river and through the woods, to grandfather's house we go." – Lydia Maria Child
"My Español is not good enough to tell her the things an Abuela should know…" – Meg Medina, Mango, Abuela, and Me
"Snuggled in my pajamas I smell flowers in her hair, sugar and cinnamon baked into her skin." – Meg Medina, Mango, Abuela, and Me
"It hurts to live after someone has died. It just does." – Michelle Obama, Becoming
"How to say goodbye to a Grandma: Let her borrow some sprinkles, some books, some stickers, some ribbons… Say I-Love-You without making a sound. Give her a big hug and ask, 'When can I babysit you again?'" – Jean Reagan, How To Babysit A Grandma
"How to say goodbye to a Grandpa: Surprise him with the picture. Give him a hug and a kiss, a hug and a kiss, a hug and a kiss." – Jean Reagan, How To Babysit A Grandpa
"I miss your love, I miss your touch, but I'm feeling you everyday. And I can almost hear you say, 'You've come a long way, baby.'" – Robbie Williams, "Nan's Song"
This article was originally published on