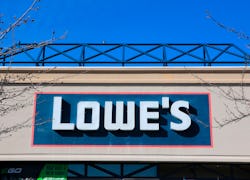 Lowe's Won't Be Leaving Dad Stranded This Father's Day
UCG/Universal Images Group/Getty Images
Because dad might be feeling handy.
Lowe's is definitely a mecca for dads, like Target is a mecca for moms — at least for the dads in my life. I know it can serve as some sort of retreat for busy dads, and they're like kids in a candy store when it comes to all the tools, appliances, plants, lumber, fixtures, and more. If a day full of fun and dad's getting a little much-deserved "me time" is in order on Father's Day, they may be wondering if Lowe's is open on Father's Day.
Perhaps they want to grab a new and improved grill to cook up a Father's Day feast, or he's itching to work on that DIY project he's had on the backburner for months. Well, don't worry, dad, Lowe's has got you covered.
Is Lowe's open on Father's Day 2022?
Luckily for dad, Lowe's is open on Father's Day 2022 for regular hours — 6 a.m. to 10 p.m. In fact, Lowe's is open almost 365 days a year, because the home improvement store is only closed on Thanksgiving Day and Christmas Day. Perfect for those grill malfunctioning emergencies on Memorial Day.
So not only can he unwind and peruse the aisles window shopping, he can also score some major deals with all the Lowe's discounts for Father's Day going on.
Lowe's Father's Day sales
The Father's Day sales at Lowes are pretty sweet, including deals on power tool combo kits, tool storage, hand tools, outdoor power equipment, grills and accessories, lighting and ceiling fans, and more.
Dad can save $100 on an EGO POWER + cordless electric lawn mower, or $151 on a Whirlpool top-load washer — maybe getting a good deal on a sleek appliance will inspire him to do more laundry. Does he hate his chore of vacuuming? He can grab an iRobot robotic automatic dirt disposal vacuum for $200 off. That's a pretty sweet steal and a win-win for everyone in your home.
So whether Dad just wants some time to himself this year at his favorite store, or if he just wants to pick up some great deals to work on that ever-growing to-do list for the house, Lowe's has got him covered this Father's Day.