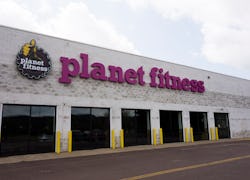 Is Planet Fitness Open On Father's Day? What You Should Know
DON EMMERT/AFP/Getty Images
Can dad get his fitness on before the celebrations begin?
Is dad's favorite kind of six-pack of the ab variety and not beer? Does his idea of hitting the bar to unwind involve a weight bar? To the fitness dad, holidays don't mean taking a break from hitting the gym — it is a great way to relieve stress and get that dopamine and endorphin hit after all — and Father's Day is no different. The dad in your life may be wondering if Planet Fitness is open on Father's Day so he can do some serious celebrating by logging a few miles on the treadmill or pumping out a few reps on the weight bench (and don't forget about the complimentary massage chairs). Will the doors be open when he arrives to pump some iron on Father's Day?
Is Planet Fitness open on Father's Day?
Thankfully for the fitness dad in your life, Planet Fitness is indeed open on Father's Day. In fact, it's open pretty much every single holiday with modified hours except for Christmas Day, which is the only day they're closed. Since they're open almost 365 days a year, you may be wondering what their hours are, especially if dad is planning his celebration day around a quick workout.
And if he's open to it, dad can even bring guests to Planet Fitness if he's a PF Black Card member. That way everyone in the family can celebrate Father's Day and health together — as long as your child is at least 13 years old. A little father/child bonding time in the weight room or even doing yoga sounds like a pretty fun Father's Day activity to me.
What are the business hours at Planet Fitness?
Most Planet Fitness gyms are open 24 hours, but that varies by location. And don't forget, you can use the Planet Fitness club app for free to check out your personal gym's hours, free workouts, and even a crowd meter — which is super helpful to ensure you grab your favorite elliptical spot.
So if dad's idea of a great gift is spending some time at the gym this Father's Day. don't worry, Planet Fitness has got him covered this year and every year.