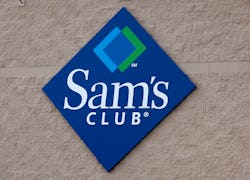 Here's Everything You Need To Know About Sam's Club On Father's Day
Scott Olson/Getty Images News/Getty Images
Just in case you need a whole lot of hamburger buns.
This Father's Day, if dad is looking for some time to get away and get lost in a massive warehouse of a store — or if you forgot some key items for your big Father's Day backyard barbecue celebration, like 60 hamburger buns and 4 pounds of ground beef, then you're probably wondering if Sam's Club is open on Father's Day this year. What do you do the day of, when you need your bulk items on the cheap? Are you doomed to have to run to a regular grocery store where you can't stock up?
Is Sam's Club Open on Father's Day 2022?
Thankfully, you and your big-buying tendencies are safe on Father's Day, and almost every other day of the year except for New Year's, Easter, Christmas, and Thanksgiving. Sam's Club is open for business on Father's Day with their regular hours, which are 10 a.m. to 8 p.m. Monday through Friday for all members, and opening as early as 8 a.m. for Plus members. Saturdays their club hours are 9 a.m. to 8 p.m. (with early shopping starting at 8 a.m. for Plus members), and Sundays from 10 a.m. to 6 p.m. for everyone.
Sam's Club Father's Day deals
For that Father's Day meal you can get good prices on prime beef tenderloin steaks, salmon, chicken salad, ribeye steak, ground beef, cakes, fruit and cheese party trays, and more. And as always, Sam's Club has great deals on TVs, video games, soundbars and home theater, and gaming room furniture for that "man cave."
No matter what kind of "dad" you're celebrating this year, there's always something for every type of dad at Sam's Club — whether you're looking for a gift, he's looking to upgrade an appliance, or you're trying to throw him the biggest and best barbecue you can. And if you've spaced and need to run to Sam's Club the day of, they've got you covered.