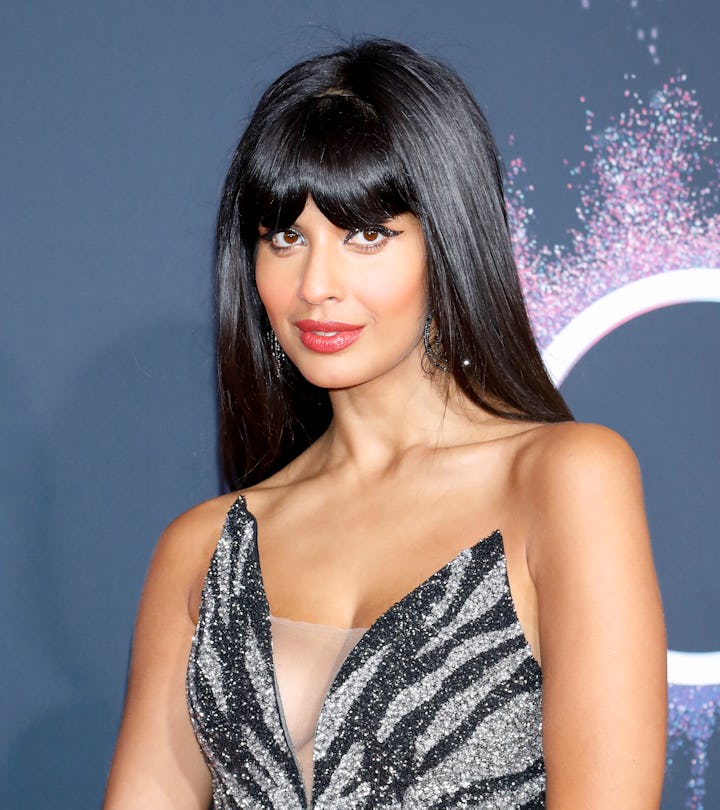 Kurt Krieger - Corbis/Corbis Entertainment/Getty Images
Jameela Jamil Is On A Mission To End Period Poverty
"If men even had nosebleeds every single month, we would have free nose plugs available on every single street corner."
Actress and activist Jameela Jamil is baffled that period poverty is endemic in the United States. "This is happening in one of the wealthiest countries in the world — that is petrifying," she tells Romper. And yet, at the same time, she's really not that baffled, actually. True, anyone can have a period, regardless of gender, but menstruation is primarily (and primarily seen as) a women's issue. "If men even had nosebleeds every single month, we would have free nose plugs available on every single street corner," she notes wryly. "I really mean that."
While the public has become more broadly aware of period poverty in recent years, many do not realize how dire — and close to home — this issue really is. An estimated 16.9 million Americans experience period poverty annually. Two thirds of low-income women can't afford adequate menstrual products, many having to choose between food and basic sanitary supplies, according to research published in Obstetrics and Gynecology. Another survey conducted by U by Kotex found that a staggering third of respondents report having missed school, work, or appointments due to lack of menstrual products, and indicated that the Covid-19 pandemic appeared to make access issues even worse.
"We are allowing three and a half million girls a year to miss school over their period. One in five girls are unable to access period products," Jamil says. "These are wild statistics!"
Jamil has partnered with Always' #EndPeriodPoverty campaign, which has donated over 160 million period products to people in need around the world, including more than 50 million in the U.S., since 2018. Always, with Jamil's support, has committed to donating an additional 1 million pads to the Feeding America network of food banks.
"I'm really proud to be a part of ending health period poverty with this company, but there's so much more to be done because this is a systemic issue," she says. "This isn't a one time fix."
That's why Jamil and Always have extended their support to speak on behalf of Congresswoman Grace Meng's Menstrual Equity for All Act, a bill that would expand access to to period products throughout the U.S. by requiring free distribution in federal and state detention facilities (currently, 38 states have no legal obligation to provide menstrual products to inmates), and in public restrooms in federal buildings. The bill also establishes grant programs for schools — elementary school to college — to provide free menstrual products and would require Medicaid and certain emergency food and shelter grants to pay for menstrual products (they are not currently covered), and requires employers with at least 100 employees to provide free menstrual products for employees.
But while the bill has 98 co-sponsors, all Democrats, it has not moved past an introduction in the house. Dozens of menstrual equity laws have been enacted at the state level since 2014, yet movement at the federal level has been glacial. The lack of political action is a source of frustration for Jamil.
"I think it's very confusing because this isn't a partisan issue," she says. "There are people who have periods in all political parties; this impacts people's relatives regardless of what their political ideology is. And so this doesn't make any sense to me. It just feels quite maddening."
Nonsensical but, again, in the sordid logic of misogyny, completely understandable.
"We have made periods somehow still, even to this day, an awkward subject that people feel ashamed to discuss," says Jamil. "It's only recently that I started to own my f—king period as something that is nothing to be embarrassed of. If anything, it makes me a legend for being out of the bed and behaving like a human being!"
And so Jamil is frustrated but not deterred, and encourages others not to be intimidated by the enormity of the task or of the the political system. ("They do not control us as much as we, the people, the majority, can control them: we get to choose who is in power.") The stakes are too high, and we all have a part to play, regardless of whether or not we menstruate or personally have access to the supplies we need.
"We all have a responsibility to not be a part of hindering young people's education, young people's confidence, young people's dignity over something so basic as a standard natural biological event that involves fertility upon which of the future of humanity depends," she says. "This is not niche. This is as standard as it comes."
Click here to reach out to your representative about the Menstrual Equity For All Act.