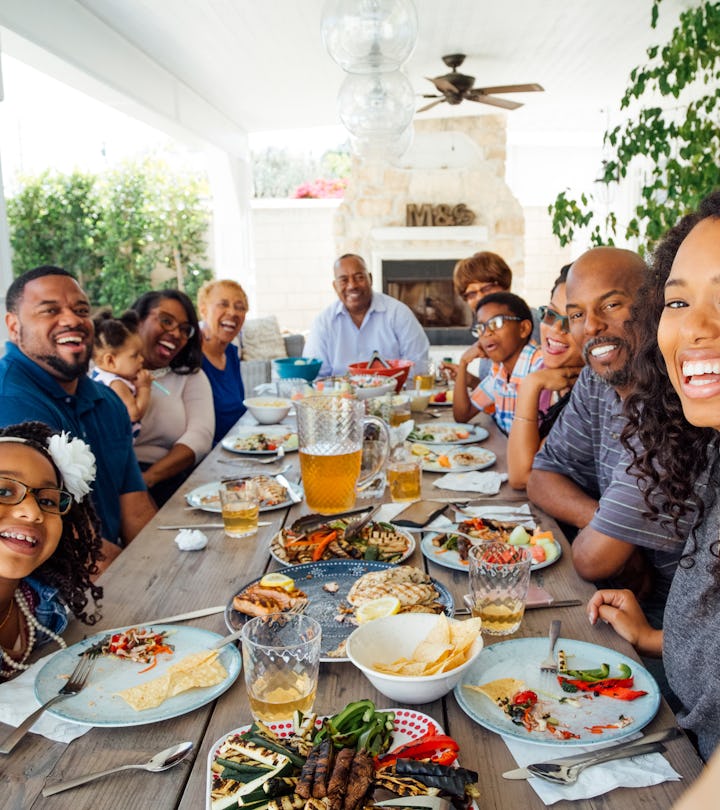 The Good Brigade/DigitalVision/Getty Images
Honor Juneteenth With These Powerful Quotes
These quotes are so inspirational.
Juneteenth falls each year on June 19, and while it honors an event that occurred in 1865, it wasn't until 2021 that the day became a federal holiday. These quotes about Juneteenth are a great way to learn about the holiday while uplifting Black voices. And if you're wondering how to explain Juneteenth to your kids, some of these Juneteenth quotes may be helpful.
If you're unfamiliar, Juneteenth honors the day Major General Gordon Granger and his Union Army troops rode into Galveston, Texas, on horseback and told those who were still enslaved there that they were officially free. Many people think the Emancipation Proclamation was when slaves were freed, and while that's true to an extent, "the proclamation only applied to places under Confederate control and not to slaveholding border states or rebel areas already under Union control," per History. Following Juneteenth, slavery was officially abolished with the 13th amendment, which was ratified in December 1865.
Juneteenth is a celebratory holiday, and whether you plan to attend a parade, buy from Black-owned businesses, read books about Juneteenth or have your own lesson with Juneteenth quotes, it's important to remember, as Tiffany Eve Lawrence noted in a previous Romper article, that Black history does not begin with slavery. Read on for quotes about Juneteenth that both honor the special holiday and nod to the fact that there's still work to be done in reaching true equality.
Juneteenth Quotes
"Juneteenth has never been a celebration of victory or an acceptance of the way things are. It's a celebration of progress. It's an affirmation that despite the most painful parts of our history, change is possible—and there is still so much work to do." — Barack Obama
"The 4th of July was never about Black people. Juneteenth is just for us. As Black people, we are told we don't deserve our own holidays rooted in our own history. Everything is whitewashed. Juneteenth is for us… Juneteenth symbolizes the hope that my children and grandchildren will be free. It's Black Joy and Black tenacity to survive." — Tanesha Grant
"You can't separate peace from freedom because no one can be at peace unless he has his freedom." — Malcolm X
"What I love about Juneteenth is that even in that extended wait, we still find something to celebrate. Even though the story has never been tidy, and Black folks have had to march and fight for every inch of our freedom, our story is nonetheless one of progress." — Michelle Obama
"Emancipation was as a result of dedication, hard work, speaking up, and speaking out. For people like me who believe in speaking up and speaking out, for times when we feel overwhelmed, or that laws and the world is moving backwards, it gives me hope." —Sikemi Okunrinboye
"Juneteenth may mark just one moment in the struggle for emancipation, but the holiday gives us an occasion to reflect on the profound contributions of enslaved Black Americans to the cause of human freedom." — Jamelle Bouie
"June 19th reminds me that I am the force of power to change this world and to follow in the footsteps of my ancestors to work towards liberation." — Mariah Cooley
"Freedom is never voluntarily given by the oppressor; it must be demanded by the oppressed." — Martin Luther King Jr.
"From this moment on, when you look at the vastness of the night sky, and you see those stars moving up there, know that those stars are our African ancestors dancing. They're dancing in celebration because their lives are finally being acknowledged." — Pharrell
"Every year we must remind successive generations that this event triggered a series of events that one by one defines the challenges and responsibilities of successive generations. That's why we need this holiday." — Al Edwards
"Won't it be wonderful when Black history and Native American history and Jewish history and all of U.S. history is taught from one book. Just U.S. history." — Maya Angelou
"Freeing yourself was one thing, claiming ownership of that freed self was another." — Toni Morrison
"Juneteenth reminds me of Black freedom dreams, my freedom dreams." — Dannese Mapanda
"Unless you spring from a history that is smug and reckless, unless you've vowed yourself blind to a ceaseless light, you see us. We are a shea-shined toddler writhing through Sunday sermon, we are the grizzled elder gingerly unfolding his last body. And we are intent and insistent upon the human in ourselves." — Patricia Smith (from The Stuff of Astounding: A Poem For Juneteenth)