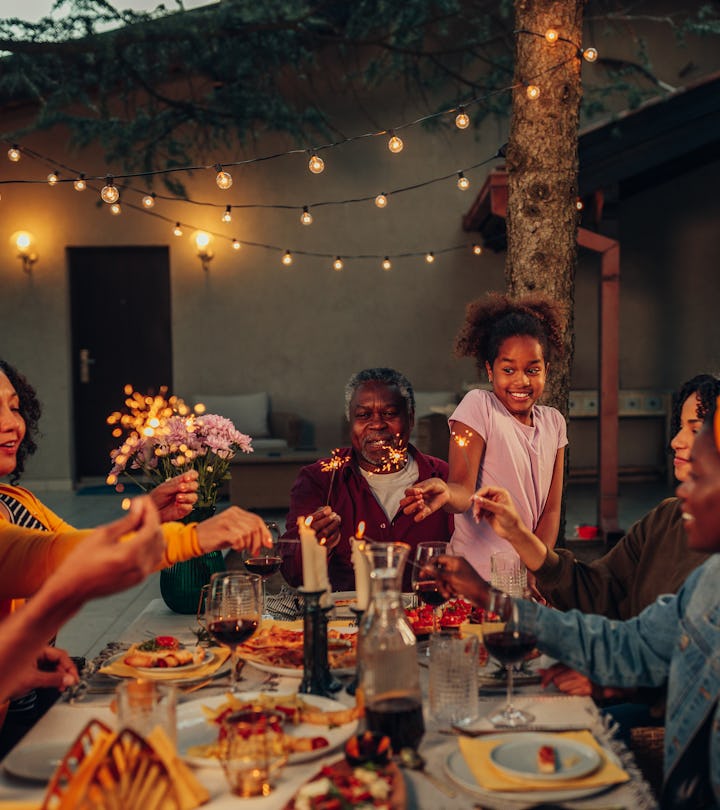 Dimensions/E+/Getty Images
Delicious Juneteenth Recipes Your Whole Family Will Love
Healthy and historically-grounded recipes to celebrate Juneteenth.
As black mothers, registered dietitians, and business owners, we at Culina Health are so excited for Juneteenth this year. Juneteenth is an important holiday for us to celebrate our culture, family, and food. While Southern food doesn't have the best reputation when it comes to our health, we have some expert-backed tips to help you eat healthy during your Juneteenth feast without skipping the foods and flavors you love.
But before we dig in, let's take a closer look at the meaning behind Juneteenth and some of the traditional dishes served to celebrate this monumental day.
Juneteenth — also known as Freedom Day and Black Independence Day — commemorates June 19, 1865. On this day, enslaved African Americans were granted freedom in Texas, the last Confederate state to abolish slavery. Juneteenth is a celebration of freedom and black culture, but it's also an important reminder that black people in America fought (and, in some cases, are still fighting) for basic human rights decades after the Declaration of Independence was signed.
Southern dishes are staples in most Juneteenth celebrations, and we also honor the African American struggle for freedom by serving red foods as part of the Juneteenth menu. Here are a few of our favorite Juneteenth recipes that celebrate black culture, summer, and also support our physical health.
Anti-inflammatory hibiscus-strawberry punch
No Juneteenth celebration is complete without a serving of red punch. This tradition originates from a West African beverage called bissap that was brought to the United States by slaves. Bissab gets its vibrant red color from the petals of hibiscus flowers, which are rich in powerful antioxidants, including polyphenols and ​​anthocyanins. This healthier twist on bissap is lower in sugar, and has some added strawberries for even more antioxidants and natural sweetness. The ginger adds a spicy kick that also helps soothe inflammation.
Ingredients:
1 ⅓ cups filtered water
¼ cup granulated sugar
12 ounces (or about 3 cups) fresh strawberries, halved or quartered
2 teaspoons finely grated fresh ginger
1 bunch fresh mint
3 single-serve bags (35 grams each) hibiscus tea
Sparkling water, for serving
Directions
Combine sugar and water in a small saucepan over high heat until the sugar is dissolved.
Turn off the heat and add the tea bags and grated ginger. Let the mixture steep for 10 minutes and strain into a glass measuring cup. Let the mixture cool completely.
Meanwhile, muddle half of the strawberries and half of the fresh mint bunch.
To serve, fill a 12 ounce glass with 1 ounce of hibiscus syrup and 1 - 2 tablespoons of the muddled strawberry and mint compote. Add ice and fill the glass with sparkling water.
Stir the mixture, garnish with fresh strawberries and mint, and enjoy.
Yield: Makes 2 cups syrup
Hydrating watermelon and cucumber salad with feta
Sticking with the theme of eating red-colored foods for Juneteenth, we're head-over-heels for this refreshing watermelon-feta salad recipe. This savory take on a fruit salad is super-hydrating for those long hours spent outside grilling. Watermelon is not only hydrating, but it's also a great source of antioxidants, potassium, and vitamins A and C. Adding feta helps balance out the sweetness of the watermelon, and gives this recipe a little more protein, which can help stabilize your blood sugar and keep you fuller for longer.
Ingredients:
5 cups cubed watermelon
1 cup diced cucumbers
½ cup crumbled feta cheese
⅓ cup chopped fresh basil leaves (or fresh mint leaves)
2 tablespoons extra-virgin olive oil
3 tablespoons fresh lemon juice
Salt and pepper to taste
Directions
For the dressing, combine the olive oil, lemon juice, salt and pepper in a bowl and whisk.
In a large bowl combine the watermelon, cucumbers, feta cheese, and basil. Drizzle in the dressing as desired and gently mix.
Season with salt and pepper to taste and serve.
Yield: Serves 4
Seasonal succotash with shrimp
No cookout is complete without a corn recipe! We know that corn has a controversial reputation, but we're here for some fresh, sweet summer corn from the farmer's market any day. In fact, this starchy vegetable also has some pretty impressive stats when it comes to antioxidants, fiber, and vitamin C. Succotash is a Southern staple that can actually be quite healthy because it's loaded with so many nutrient-rich vegetables. Add some beans for fiber and shrimp for protein and you have the perfect summer dish for Juneteenth.
Ingredients:
2 ½ cups (about 1.5 cans) of salt-free butter beans
1 large yellow onion, diced
½ large orange or yellow bell pepper, diced
1 pound shrimp (any size), peeled and deveined
4 garlic cloves, minced
5 medium ears corn, kernels sliced off (about 3 1/2 cups)
2 large ripe tomatoes, coarsely chopped
1 tablespoon plus 1 teaspoon extra-virgin olive oil
½ packed cup fresh basil leaves, finely chopped
Salt and pepper to taste
Directions
Strain liquid from canned beans and rinse in a colander.
Heat half of the olive oil in a large cast-iron skillet or dutch oven over medium.
Add the onion, bell pepper, and garlic to the pan and cook until tender, about 5 minutes.
Add the corn, tomatoes, butter beans, and season with salt and pepper. Stir and cover the mixture for about 8 minutes.
In a separate pan, add the remaining olive oil over medium heat, then add the shrimp, cook until pink and cooked through.
Stir the shrimp and fresh basil into the succotash. Add salt and pepper to taste.
Turn off heat and let sit uncovered for about 5 minutes to let the flavors meld. Serve warm.
Yield: Serves 8
Tamar Samuels and Vanessa Rissetto are registered dietitians, mothers, and Black business co-founders of the nutrition platform Culina Health. Culina makes nutrition accessible and sustainable for everyone by offering personalized, science-based virtual nutrition counseling by registered dietitians that take insurance.