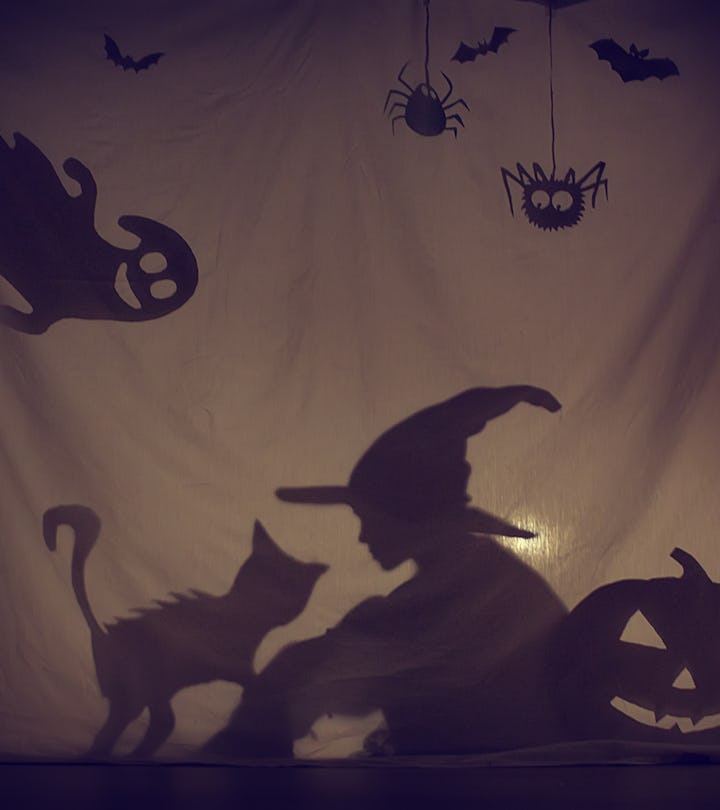 Shutterstock
15 Kid-Friendly Ghost Stories For Littles Ones
Tales designed to incite a wee fright, but not a full-on freak-out.
Lots of kids love a good, spooky story. Just nothing too spooky. And you might not want your young child exposed to anything super scary. Because super scary will lead to nightmares, which will result in little hands shaking you awake at 3 a.m. because they are certain the man with the golden arm is in the hallway closet. Fortunately, there are lots of kid-friendly ghost stories out there; short little tales that deliver just the right jolt of excitement, but which contain zero mentions of murderous clowns lurking in sewers or fathers with axes chasing their children through garden mazes.
Choosing spooky stories to share with little kids can be tricky. Your child may claim they want a blood-curdling, terrifying tale, but they probably don't. And personally, I think it's best to err on the side of caution. Better to have your kid walk away thinking your anecdote of a haunted wind chime was lame, rather than tell them something that leaves them bug-eyed and afraid to go to the bathroom alone.
That said, it's good to remember that just like us, kids enjoy the thrill of being a little frightened. The haunted tales below strike a nice balance between creepy and silly. Obviously, they don't work for all ages. No doubt your 15-year-old would blink at you wordlessly if you tried to regale them with a story of a haunted pair of smelly sneakers. But your 6-year-old? They will likely be in your lap, white-knuckling your hand, loving/hating every minute of it.
Sure your kid says they want a scary story before bed, but you also want them to go to sleep. These spooky ghost stories for kids strike the perfect balance between eerie and fun, and no one will be up wide-eyed in the middle of the night — hopefully.
This article was originally published on