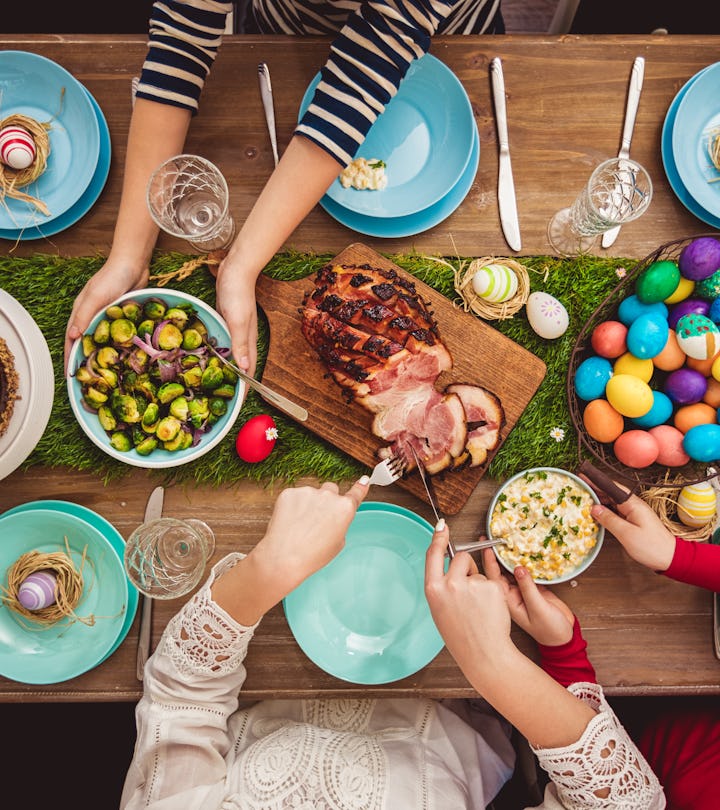 kajakiki/E+/Getty Images
20 Leftover Ham Recipes To Use Up The Rest Of Your Easter Feast
There is always extra ham.
You've been to enough Easter lunches and dinners by now to know this universal truth: there will always be leftover ham. You've probably been sent home with it time and time again, and when you've hosted, been the ham pusher yourself. So, what to do with all that remains? Just like all that extra turkey at Thanksgiving, there are some pretty delicious looking leftover ham recipes online that you should absolutely try at home.
Whether you're having your family Easter meal around lunch time or closer to dinner, chances are there will be a ham at the center of the table, glazed in brown sugar, or crowned with pineapple rings, or however you like it prepared. And long after everyone has rocked back from the table and announced they can't eat another bite, well, at least some of the ham shall remain. Once you've stuffed yourself, you may not be looking forward to eating the same meal all over again. Fortunately, ham is a versatile ingredient to have on hand, and if you find yourself with a surplus, you only have to decide which meal you'd rather eat it for. That's because there are leftover ham recipes to reuse it for breakfast, brunch, lunch, or dinner (and even a slightly odd but satisfying snack).
Whether you have too much ham on your hands or just a little bit left over, you can absolutely find a recipe to use it all up, all while feeling like you're eating something totally new.