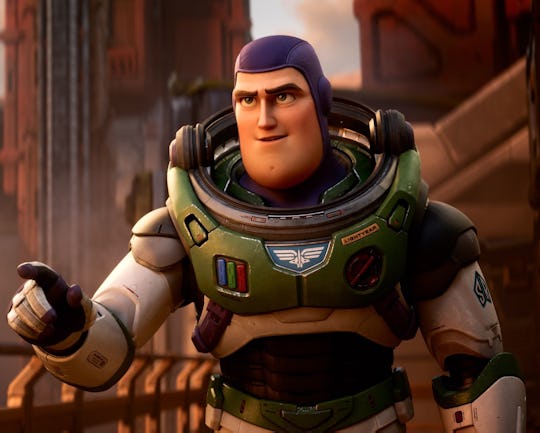 The Best Lightyear Costumes for Halloween 2022
To wear trick-or-treating, and beyond.
Buzz Lightyear's origin story finally graced the big screens earlier this year in the movie Lightyear. Not to be confused with another Toy Story movie, this film tells the story of Buzz without Andy, Woody, or the rest of the crew. And, now that the Pixar movie is streaming on Disney+ where even more little Space Rangers have a chance to see it, it's safe to say that Lightyear costumes will be big for Halloween this year.
Arriving on screen more than 25 years after Buzz's debut in 1995's Toy Story, Lightyear was much-anticipated and mostly well-received — the movie was banned in several countries for the silly reason of depicting a same-sex kiss. In addition to Buzz Lightyear, the protagonist who finds himself in a time warp, the film stars a lovable cast of new characters, including fan-favorite robot-meets-cat Sox, and purple-clad villain-with-a-twist, Zurg.
Whether your little one wants to be Buzz (main character energy) or Sox, or they like being the bad guy and opt for Zurg, there's a Lightyear costume on this list that will work. Adults can get in on the fun too, with Izzy Hawthorne, Mo Morrison and bigger versions of Buzz and Zurg. Read on for Lightyear costumes perfect for fans of all ages.
We may receive a portion of sales if you purchase a product through a link in this article.
Whether you're going to a Halloween party or just taking the kids out trick-or-treating, these Lightyear costumes are sure to light up the night.