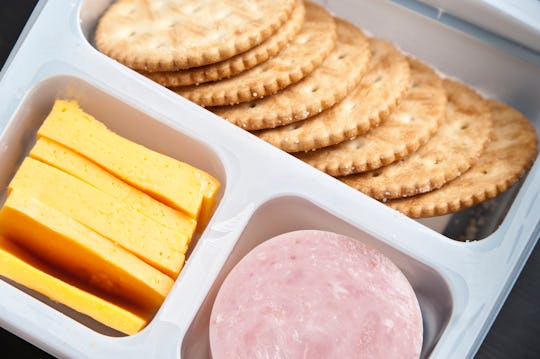 Juanmonino/E+/Getty Images
Lunchables Are Coming To School Cafeterias
The Turkey and Cheddar Cracker Stacker and the Extra Cheesy Pizza Lunchables served as schools will be made with "a specialized recipe."
Kraft Heinz, the maker of Lunchables, will be introducing the popular prepackaged snack to school cafeterias across the country in the near future. These options, however, will be made with "improved nutrition" to meet stricter guidelines implemented by the United States Department of Agriculture (USDA).
School administrators will have the option to purchase two newly specialized kinds of Lunchables — the Turkey and Cheddar Cracker Stacker and the Extra Cheesy Pizza Lunchables — to be stocked in their school's cafeteria for the 2023-24 school year, Kraft Heinz confirmed to TODAY. Versions of these two Lunchables already exist in grocery stores, but these options were made specifically to be sold at schools to meet nutrition guidelines. Kraft Heinz director of external communication Jenna Thornto told TODAY that these Lunchables are made with "a specialized recipe that incorporates more protein and whole grains to keep kids powered throughout the day, reduced saturated fat and sodium, and an increased serving size."
While reduced saturated fat and sodium are great, Lauren Au, an assistant professor at UC Davis' Department of Nutrition who studies school nutrition programs, told CNN she would want to know the levels of sodium, added sugar, and saturated fat in the school-specific products. "Research shows that high intakes of sodium will over time increase the risk of developing high blood pressure and other diseases," Au told the outlet. "The concern also is that young kids who are exposed to high sodium in packaged foods early in life could develop a preference for high sodium foods throughout their lives."
These new Lunchables with improved nutrition do meet the National School Lunch Program guidelines, which require schools to offer five meal components in their lunches (fruit, vegetables, protein, grain, and milk) with students taking at least three, including one fruit or vegetable, for their serving. "As part of being NSLP-approved, this lunch will help provide more wholesome options to students for purchase or through the free school lunch program," Kraft Heinz told TODAY. "Not only does Lunchables keep kids powered throughout the day but it powers kids' creativity and fun during mealtime."
The Turkey and Cheddar Cracker Stacker contains two crackers, two pieces of cheddar, and two rounds of turkey, which the company says meets the whole grain criteria implemented by NSLP. As for the Extra Cheesy Pizza, there are three crackers, grated cheese, and tomato sauce. This option, the company says, meets the whole grain criteria and serves "1/8 cup of red/orange vegetable."
Not every parent is feeling terribly excited at the idea of their child being served a Lunchable in the school cafeteria, even one with "improved nutrition." One parent wrote, "@RealLunchables seriously? What the heck? A lunchable isn't a replacement for a hot lunch in schools," while another noted, "I make 'Dad lunch' for my kids! Maybe 1 day per week there's something on the school lunch menu for them. I'm not paying the school to hand them a Lunchable. My lunches are actually healthy foods."
Lunchables might be coming to school cafeterias next year, but it could take some convincing to get everyone on board.