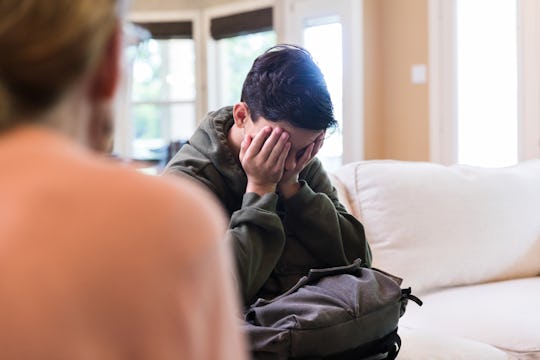 SDI Productions/E+/Getty Images
Way Too Many Parents Have Zero Plans to Talk About Sex With Their Kids
We know it's embarrassing, but come on.
If I were to hazard a guess, I would say that very few parents look forward to the sex talk with their kids. It's incredibly uncomfortable and awkward, full of words and images many of us would prefer to avoid using with our children A great many of us, apparently. A new study found that there are a shocking amount of parents who have zero intention of talking to their kids about sex, and to be honest, I kind of get it.
A OnePoll survey reached out to 2,000 parents with kids between the ages of 5 and 18 years of age to get a sense of where they stood when it came to talking about sex with their families. Perhaps unsurprisingly, six out of ten parents surveyed admitted that they themselves grew up in households where sex was considered a taboo subject. Which could explain why most of those parents, 70%, in fact, felt that parents should talk to their kids about sex from an early age, and 58% admitted that they'd already started the conversation. Another 20% said they hadn't yet gotten the conversation going, but were planning on it in the future.
On the flip side of that particular coin, 20% are just saying no to the sex talk. They have no intention of talking to their kids about sex, apparently. So let's all make sure those hardworking sex-ed teachers are getting paid well, because they're about to have their work cut out for them.
The problem doesn't appear to be that parents don't want their kids to be educated about sex. Seven out of 10 parents said they want their kids to feel comfortable coming to them with questions. It's just that 1 out of 4 parents surveyed admitted they feel awkward about the conversation. But still, Dr. Sarah Flowers, vice president of education and training at Planned Parenthood, advises that they might want to consider powering through for their child's sake. "These conversations are not one-and-done — they should start early and keep happening as kids change and grow," she told South West News Service, "For younger kids, this looks like knowing the correct names for all body parts. As kids grow up, they begin to understand what those body parts do."
There are so many reasons why we need to talk to our kids about sex. They need to understand consent, personal safety, their own bodies, hormones...the list goes on. Perhaps the best thing we can do as parents is to put aside all of our own cultural baggage and remember that their safety, and their self-esteem, comes first.
And then go meditate to cleanse your spirit after or something.