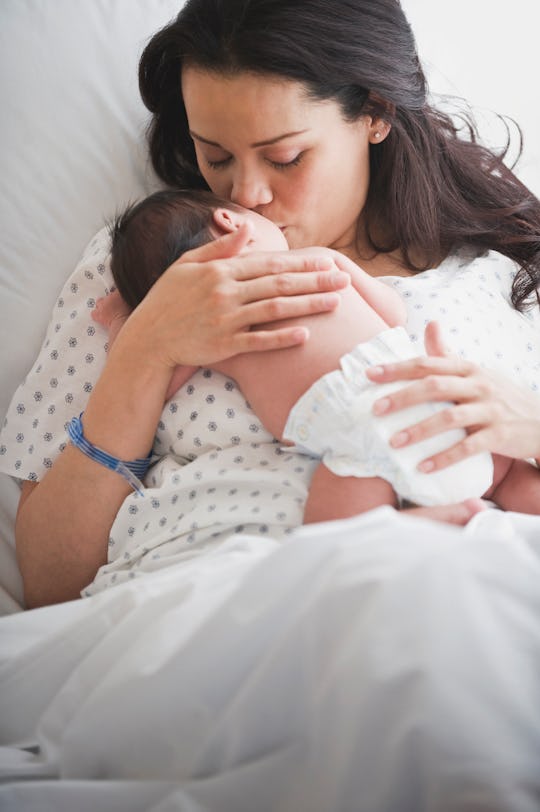 Jose Luis Pelaez Inc/Getty
FDA Approves First RSV Vaccine To Protect Infants From Birth To 6 Months
The vaccine is approved for use at 32 through 36 weeks gestational age of pregnancy.
A vaccine given to mothers during pregnancy to protect babies from severe complications of RSV, a common respiratory virus and leading cause of infant hospitalizations in the United States, has been given the official green light by Food and Drug Administration (FDA). On Aug. 21, the FDA approved a maternal RSV vaccine produced by Pfizer.
The Pfizer vaccine, branded as Abrysvo, is designed to be given to pregnant individuals late in pregnancy — it's approved for use at 32 through 36 weeks gestation — to trigger an immune response in infants from birth through their first six months of life against RSV. The virus can be especially dangerous for premature infants and babies younger than 6 months old, according to the Centers for Disease Control and Prevention (CDC).
"RSV is a common cause of illness in children, and infants are among those at highest risk for severe disease, which can lead to hospitalization," Peter Marks, M.D., Ph.D., director of the FDA's Center for Biologics Evaluation and Research, said in a statement. "This approval provides an option for healthcare providers and pregnant individuals to protect infants from this potentially life-threatening disease."
The FDA's approval comes three months after an expert panel of 14 advisers voted in favor of recommending the vaccine. The committee found the single-dose vaccine's effectiveness promising. Trial data shows the vaccine is 82% effective at protecting newborns from severe RSV infections during their first three months of life and is 69% effective at six months, according to a briefing document published by the FDA. Experts evaluated the safety of Abrysvo in two studies.
There was no debate about the vaccine's effectiveness, but some experts on the panel were concerned that the rate of preterm births among those who had taken the vaccine (5.7%) was slightly higher than those who got the placebo (4.7%). The FDA analysis of the data notes that while "a numerical imbalance" was observed, it does not appear to be "statistically significant."
While the FDA notes that there is not enough data to "establish or exclude a causal relationship between preterm birth and Abrysvo," it is requiring Pfizer to include a warning about the "numerical imbalance in preterm births" in recipients who received the vaccine.
"Specifically, the warning informs healthcare providers that to avoid the potential risk of preterm birth with use of Abrysvo before 32 weeks of gestation, administer Abrysvo as indicated in pregnant individuals at 32 through 36 weeks gestational age," the FDA explains. "Pregnant individuals who were at increased risk of preterm birth were generally excluded from clinical studies of Abrysvo.
Dr. Paul Offit of the Children's Hospital of Philadelphia, one of the four experts on the panel who voted "no" on whether the vaccine was safe, previously told the Associated Press he was concerned about the risk of preterm births. "If you're in any sense risking premature births with this vaccine, I think there will be a big price to pay," Offit said.
Dr. David Kim, director of the Division of Vaccines at the Office of Infectious Disease in the U.S. Department of Health and Human Services and a member of the advisory committee, voted "yes" on both the vaccine's efficacy and safety. He told CNN in May he wasn't convinced that the data showed the vaccine caused preterm births. "I guess when I put all the evidence together, I'm not convinced that there's a clear causal relationship between this vaccine and preterm birth. I don't think we can rule out chance. I don't think we can rule out confounding by time or place," Kim told the news outlet.
As for mothers who received the vaccine during the trial, the FDA notes they experienced mild to moderate adverse reactions such as fatigue, muscle aches, headache, and pain at the injection site.
Pfizer estimates that 20,000 infant hospitalizations and 320,000 doctor visits in the United States could be prevented every year if enough pregnant individuals received the vaccination. The vaccine is expected to be available before RSV season, which typically begins in October.
This article was originally published on