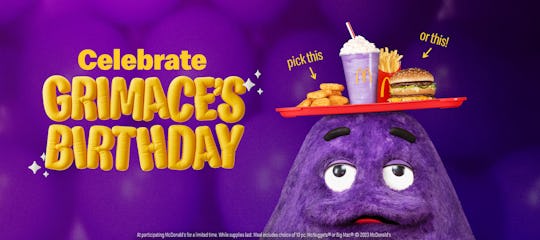 McDonald's
McDonald's Is Debuting New Purple Shakes In Honor Grimace, The Sweetest Gemini Of All
Grimace is getting his time to shine!
What do we really know about Grimace? He is one of the McDonald's gang, this we know for sure. He is a pleasing shade of purple. He is always smiling and appears to be endlessly supportive of his pal Ronald McDonald, the leader of the gang. He doesn't seem to be as mischievous as the Hamburglar or as sanctimonious as Officer Big Mac. Other than that, we didn't know much about Grimace until now. Because now McDonald's is filling us in on his background in honor of his birthday. So we know that Grimace is a Gemini. And we are ready to celebrate all things Grimace with a purple shake as delicious as we imagine Grimace himself to be.
Starting on June 12, McDonald's restaurants across the country will be offering Grimace Birthday Meals, featuring either a Big Mac or a 10-piece Chicken McNuggets, an order of fries, and a limited edition purple shake "inspired by Grimace's iconic color and sweetness," according to a McDonald's press release.
"Our fans have amazing childhood memories of their birthdays at McDonald's...and Grimace's Birthday is all about paying homage to the amazing, fun moments we all share," said Tariq Hassan, Chief Marketing and Customer Experience Officer at McDonald's USA. "We're excited to put a modern spin on these memories to continue to drive McDonald's relevance with a new generation. Grimace is the perfect lovable icon to have McDonald's meet our fans at the intersection of nostalgia and culture."
Plus I bet that Grimace purple shake tastes amazing.
Grimace fans will be excited to learn that McDonald's has also decided to release a little more information about the silent purple giant. He grew up on Grimace Island and has a huge family who are not named Grimace. There's Grandma Winky, aunts Millie and Tillie, and his Uncle O'Grimacey, who is, perhaps unsurprisingly, green instead of purple. Uncle O'Grimacey is also a fan of shakes like his super chill nephew, although he presumably favors a Shamrock Shake in March.
Birthday festivities for Grimace kick off on June 12, and fans can do more than just down a purple shake in his honor. There's a ton of Grimace merch like tees and socks coming to buy online, and on June 13 and 14, fans can head to McDonald's Instagram page to share their own favorite birthday memory with an "Add Yours" button. The company will donate $5 to Ronald McDonald House Charities for every photo shared.
Grimace is finally getting his moment to shine. I wonder how the Hamburglar feels about it.