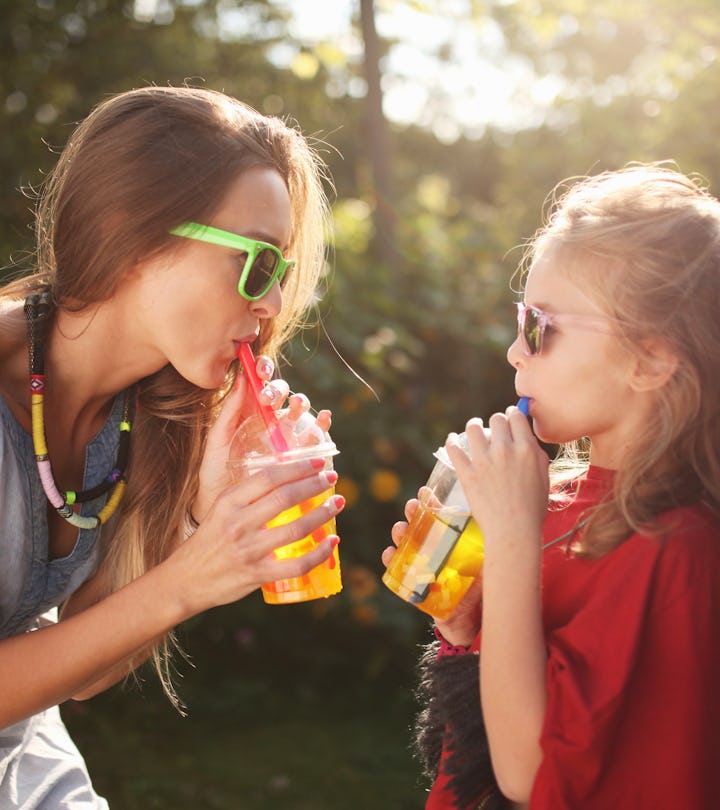 Stanislaw Pytel/DigitalVision/Getty Images
18 Fun & Easy Mocktails For Kids
So they can feel like grown-ups, even if they're at the kids' table.
For a lot of kids, one of the best things about big gatherings and special occasions is getting to have a juice box or sparkling apple cider to sip as a special treat. And those festive fizzies are great for when you need something quick, but if you have a little extra time on your hands, consider mixing up one or two of these super easy mocktails for kids at your next event. A fancy cup, a colorful paper straw, and some fruit garnishes can make all the difference.
At some point this past spring, I noticed we had some lemons in the house and I decided to pour my daughter a glass of lemonade with cut-up strawberries, a lemon slice attached to the rim, and a pink and white paper straw. Sure, preparing it took a little longer than it would have if I had just poured some lemonade into her usual cup, but the look on her face when I presented her with this drink was totally priceless. In fact, she loved it so much that I ended up buying her some plastic stemless wine glasses for whenever we have the time (and ingredients) to make her something a little extra special. Suffice to say, I have seen firsthand how much joy mocktails for kids can bring.
When you're thinking up mocktail recipes, remember that kids tend to like basic flavors, so while a virgin mojito may be a great beverage for an expecting mom, little ones may not like the flavor quite as much. Thankfully, there are plenty of mocktail recipes for kids to choose from. And, if all else fails, you can never go wrong with some lemonade and sliced strawberries in a fancy cup.
It doesn't take much to create a special, easy mocktail for kids, especially since they're usually more interested in what the drink looks like than what it tastes like. So, pick up some fun paper straws, slice up some fruit, and mix up a delicious drink for the kids to enjoy at your next gathering.
This article was originally published on