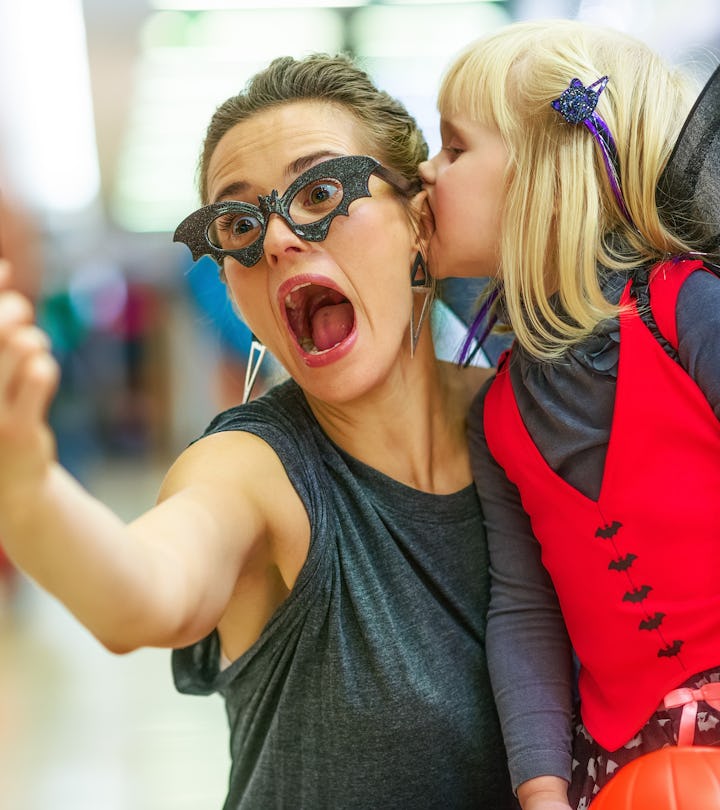 Shutterstock
25 Mother And Daughter Halloween Costume Ideas That Are Cute And Spooky
Get ready to win all of the costume contests.
Dressing up your little ones in cute and spooky costumes is easily the best thing about Halloween for a parent (OK, second to picking through their candy buckets while they're sleeping). Even better? Picking mother and daughter Halloween costumes to celebrate the holiday in the most adorable way possible. Even if you don't want to match perfectly (i.e. in exactly the same costumes), you can coordinate: think Cruella de Vil and a Dalmatian (and yes, there are options for that below). The matching mommy and daughter Halloween costume is fun and sweet without being over-the-top.
You can pick a coordinating costume based off of what your child wants to wear, which, let's be honest, is what you'll be doing if you have a headstrong toddler or middle school-aged daughter. Or you can select something that you both love: a cartoon you like to watch together, characters from a nursery rhyme you sing to them at night, or even just Halloween classics, like a scarecrow and pumpkin. Have fun with it, go for something unique, or just pick something that feels easy and low-maintenance. Below, we've rounded up some of our favorite options to make it easier for you.
We may receive a portion of sales if you purchase a product through a link in this article.
Let's be real: there are only so many years that your daughter will want to match with you on Halloween, so be sure to take advantage of that time! Mother and daughter Halloween costumes are so much fun and there are so many options out there. And if the rest of the family wants to get involved, basically any of these ideas can be turned into family looks as well.