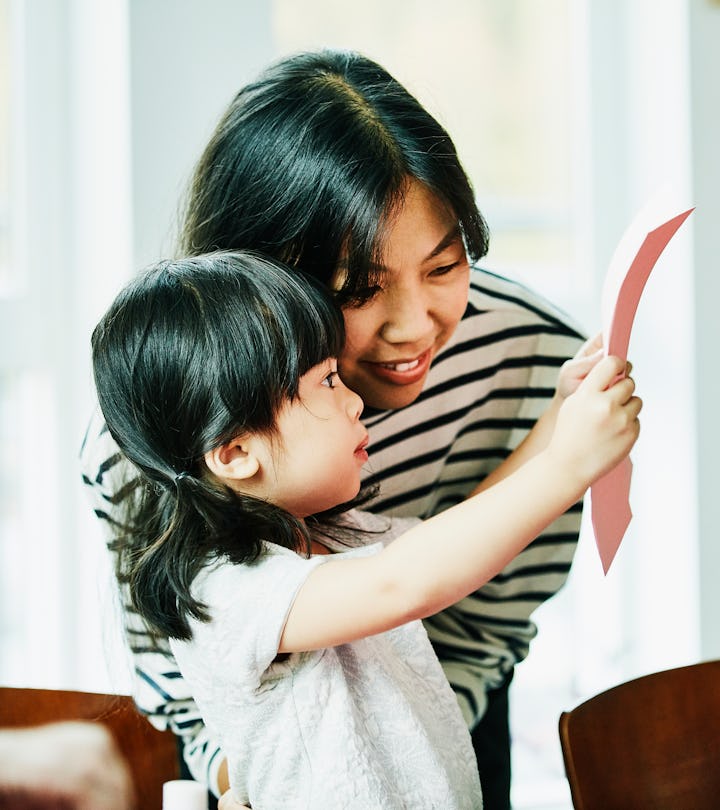 Thomas Barwick/DigitalVision/Getty Images
These 23 Mother's Day Cards Are Sure To Outshine Any Gift
Whatever you do, don't forget the card.
Even if your mom is the type who claims that Mother's Day is a made-up holiday or that her children are the only gift she'll ever need, there's something you should know: get her a card anyway. With this in mind, I've rounded up the best Mother's Day cards, from funny, to sentimental, to Ecards, to free printables (which will save you if you realize you're card-less at the last minute).
Whether or not you get your mom, your mother-in-law, your sister, or your mom friends a gift for Mother's Day is totally up to you, but if you choose not to exchange for the holiday, then a card with a handwritten message is a sweet gesture that all moms will appreciate.
We only include products that have been independently selected by Romper's editorial team. However, we may receive a portion of sales if you purchase a product through a link in this article.
Free printable Mother's Day cards
1. A fully customizable card
This printable Mother's Day card goes above and beyond what I'd expect from something free. It has a beautiful graphic on the outside, plus you can customize the text on the inside (or leave the sweet message as is). You also have the option to email this one.
2. A free printable Mother's Day card
Classic black and white gets a floral twist with this free printable from Delia Creates. It has a cool minimalist vibe so your message will really shine. This floral Mother's Day card you can print at home looks especially nice printed on cardstock.
3. A cute Mother's Day letter from kids
This mad libs style Mother's Day letter is sure to provide plenty of laughs. Kids of all ages can fill this out as long as younger children have an adults' help. Plus it's always fun to see what your kid really does notice about you. There's also a printable available for grandmas and nannas.
4. A blank printable card
This Mother's Day card is a digital download that comes to your inbox as a PDF after you buy it. The perk of simple cute card like this is that because it's digital you can print it off as many times as you like and give it to all the moms in your life.
5. A funny printable Mother's Day card
When you become a mom yourself, it's never a bad idea to acknowledge to your own mother how challenging motherhood can be at times. This free printable Mother's Day card does just that in a funny way. You can customize the text (and they even have some suggested messages if you're stuck) and it can be sent as an Ecard or printed.
Mother's Day Ecards
1. A Paperless Post Mother's Day card
Let your mom know that she simply cannot be beet by sending her this punny virtual card. It will be delivered straight to her inbox and it pops out of a virtual envelope just like snail mail.
2. A video Ecard
A video and a card combine in this funny "symphony" which is a compilation of kids in various situations yelling, "mom!. This video card is relatable, hilarious, and strangely nostalgic and moving if her kids are grown.
3. An animated Mother's Day card
Remind mom that she's one in a million with this gorgeous animated Mother's Day card from brand Ojolie. You can say as little or as much as you'd like and your personalized text will appear beneath the card. You'll need to set up a subscription to Ojolie which is just over $20 a year, and means you can send beautiful cards for every occasion.
4. A bilingual English/Spanish Ecard
Give mom a virtual smooch with this bilingual Ecard from kids Spanish-learning app, Canticos. You or your child can type in your own message and email it over with the click of a button without ever leaving the website.
5. A card for a special person who feels like a mom
If there's someone in your life who feels like a mom to you, show their appreciation with this Ecard that lets you put in your own special photo. In addition to a picture, you can also put in a personalized message. Just note that you'll need an OpenMe subscription to send this, which is totally free.
6. For A Magical Mum
This springy Mother's Day card is lovely if your mom is British (or if she just loves Bridgerton. It comes in a virtual envelope that's lined in the same pretty floral print.
Sentimental Mother's Day cards
1. A floral Mother's Day card from Target
If you find it hard to express in words what you want to say, you can get a sentimental Mother's Day card that says it all. Inside this one, you'll find a sweet message and the beautiful, glittery rainbow flowers on the outside will brighten up her day.
2. A Mother's Day card for a stepmom
Even if they're not your biological mother, don't forget a card for all the wonderful mother figures you've had along the way. Any stepmom will be touched to receive a card acknowledging their role in your life.
3. A floral Mother's Day card for anyone
Show your gratitude to your mom who's helped you grow and become the person you are. The front of this botanical card is filled with beautiful drawings of flowers and birds, and if your mom has a green thumb she may especially appreciate this.
4. A pop-up bouquet Mother's Day card
Make the Mother's Day bouquet last forever with these intricate pop-up cards. This is pricier than your average greeting card, but it also makes a major statement with its delicately cut pop-up design, and the bouquet will last all year.
5. A Mother's Day Card for your wife
In addition to letting her sleep in, don't forget to give your wife a card this Mother's Day. Show your wife how much she means to you with this sweet Mother's Day card. The front expresses what a gift your children are, and on the inside it honors that your wife is a great partner, mother, and friend.
6. A card that someone else sends for you
Be warned that this sweet celestial card is sure to make your mom tear up, especially if you can't be together on the day. Postable will add your own personal message to the 100% recyclable card, then print, stamp, and mail it for you, no trip to the post office required.
7. A Mother's Day card for a mom-to-be
Don't forget moms-to-be this Mother's Day as some (myself included) will say that motherhood starts the moment you find out you're pregnant. This sweet and simple card honors the pregnant mom-to-be, and she'll be happy that you remembered.
Funny Mother's Day Cards
1. A funny Mother's Day thank you card
This funny card pops thanks to the cute watercolor letters. It's from a women-owned company, too, and a portion of each sale goes to the young artist who designed it.
2. A punny Mother's Day card
This funny Mother's Day card is for the mom who picked you up, both literally off the ground and from the movie theater, from sleepovers (sometimes in the middle of the night), and the mall. Bonus points if your mom really did have a minivan.
3. A 'Schitt's Creek' Mother's Day Card
Honor your mom's inner Moira Rose with this card. You just may become her favorite child if you get her a Schitt's Creek gift to go with it.
4. A funny Mother's Day card from kids
Well, at least this Mother's Day card is honest. You can legally only give your mom this card if you also include a gift to offset some of the financial burden you were for 18 or more years.
5. A Mother's Day card for an eager grandma-to-be
If your mom is wondering (aloud and constantly) when she'll have grandkids, then this card is for her. It's cheeky and fun, plus it's hand-printed and made to order so the quality feels really good.
Even if you don't give your mom a gift, a Mother's Day card is always appreciated (even if she says she doesn't want anything). Whether you're lucky enough to see your mom on the day, or she's far away, these Mother's Day cards will let her know you appreciate her.