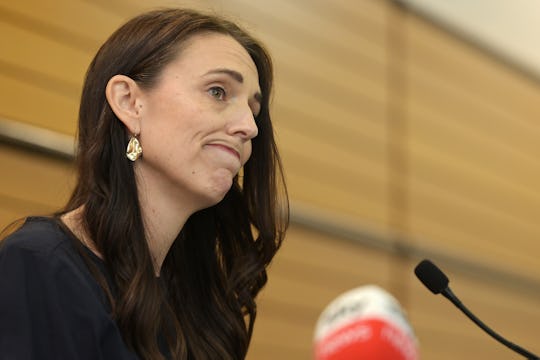 Kerry Marshall/Getty Images News/Getty Images
Jacinda Ardern No Longer Has "Enough In The Tank" & Moms Know Exactly What She Means
Moms around the world are "crushed" by the New Zealand prime minister's resignation, but are applauding her honesty and service.
After serving as Prime Minister of New Zealand since 2017, Jacinda Ardern announced that she would be resigning ahead of the upcoming election. The popular prime minister has been earning praise around the world not just for her empathetic policies and the impressive way she handled her country's pandemic response, but also as a working mom who was open about trying to find the best work-life balance for her family. After being held up as the gold standard for working moms around the world, Ardern's decision to resign has moms on social media sharing all sorts of feelings of pride, gratitude, and yes, frustration on her behalf.
Ardern held a press conference on Thursday to announce that she would not seek reelection for a third term in office, and her last day as prime minister would be Feb. 7. "The only interesting angle that you will find, is that after going on six years of some big challenges, I am human." Ardern said, holding back tears. "Politicians are human. We give all that we can for as long as we can. And then it's time. For me, it's time."
Ardern has seen her country through some of its most difficult times, including the Covid-19 pandemic and the 2019 attack on mosques in Christchurch by a white supremacist who murdered 51 people. Ardern also became only the second head of state in history to give birth while in office, welcoming her daughter Neve with partner Clarke Gayford in 2018, just one year after she was elected.
As for her next plans, they are all about Gayford and Neve. "I have no plan, no next steps, and I am looking forward to spending time with my family once again. Arguably, they are the ones that have sacrificed the most out of all of us." She added a special message to her daughter: "Mom is looking forward to being there when you start school this year." As for her partner Clarke, she said, "Let's finally get married."
And many moms on Twitter felt for the mom of one who, as she put it, "no longer [has] enough in the tank to do the job justice." Like Lorena O'Neil, who was "crushed" by Ardern's resignation.
Hillary Clinton took the time to note that Ardern will be remembered for her "strength, compassion, and grace," following her resignation.
Fellow mom Pink also shared a beautiful tribute to Ardern for showing the world "what's possible."
Another new mom pointed out that Ardern's daughter is just 4 years old, applauding the prime minister for working through a time that must have been "physically and mentally exhausting."
Dr. Rosena Allin-Khan, who serves as the UK's Shadow Cabinet Minister for Mental Health, thanked Ardern for being a role model for women and girls around the world.
New Zealand mom Fleur Fitzsimons tweeted, "History will judge Jacinda Ardern as a remarkable leader. She is genuinely kind and has an incredible intellect, she's made more of a contribution than she will ever appreciate. I can't help but feel like we need to find better ways to support women and mothers in politics."
Mom and author Rachel Simmons wrote a poignant message about Ardern's resignation and her "achingly honest" speech. "So many women — myself included — define ourselves by how hard we grind and how much we accomplish. So often it never feels like it's enough, no matter how exhausted we become. I am so moved by Jacinda Ardern's achingly honest resignation speech," Simmons wrote. "What would this world look like — who would we become, what could we create — if we all defined leadership as the capacity to know when to step aside and refill your tank? Thank you, [Jacinda Ardern.] I am grateful deep down in that place that is still figuring out what is enough. I suspect many women out there are, too."
Finally, Ardern admitted to reporters that her decision to step away to spend more time with her family was a closely guarded secret — especially around her "chatty" daughter. She "couldn't run the risk," of Neve spilling the beans, apparently.
Ardern will be the sitting prime minister for a few more weeks, and she finished her poignant speech with her own message that she hopes to "leave New Zealanders with a belief that you can be kind but strong, empathetic but decisive, optimistic but focused...that you can be your own kind of leader, one who knows when it's time to go."