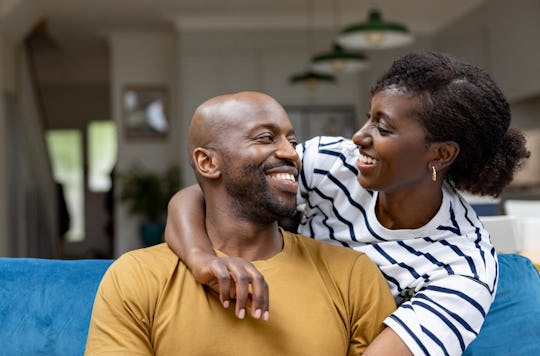 andresr/E+/Getty Images
16 Old-Fashioned Pet Names You Should Totally Start Using On Your Partner
Whether they make you smile or cringe, cutesy couple names are often part of a loving relationship. Although 'babe' is a great staple, why not take a look at past names, too? The old-fashioned pet names for your partner are cute, cheesy, and sometimes a little bizarre. As it turns out, couples have been praising (and maybe slightly annoying) one another with these cutesy and old-fashioned terms of endearment for centuries.
Plus, the precious and sometimes embarrassing nicknames couples call one another could say some positive thing about your relationship overall. "Pet names are commonly used in relationships as a sign of connection and affection for partner(s)," Sarah Trance, MS, a licensed marriage and family therapist, tells Romper. "Pet names may signify the love and importance a person has to another. These names can be specific and unique to each relationship. Some may stem from an inside joke or others may be common terms of endearment that someone has learned from their family system. These names can often signify a unique, loving connection in partnership."
If both you and your partner are open to the silliness that comes along with it, using pet names for one another can make your connection even stronger. That being said, it is important to keep in mind that not everyone will love them. "Remember, pet names, just like connection, can mean different things to different folx in a relationship," Trance says. "The meaning that we attach to those names is what matters. What one person may like could be a turn-off to someone else. It's important to tune into your partner(s) to truly know if a pet name will enhance the connection between you."
If you and your partner do love pet names, though, then there are a ton to choose from, including the classics. So, to help you find that perfect pet name, here are a selection of couples' nicknames from the past. Some are traditional and precious, whereas others are a bit more unusual. Read on to pick one that suits your own relationship.
There's something super romantic and nostalgic about picking from old-fashioned terms of endearment when it comes to pet names in a relationship. And when you use them, at least you'll know they aged better than "boo" and "bae."
Expert:
Sarah Trance, M.S., licensed marriage and family therapist
This article was originally published on