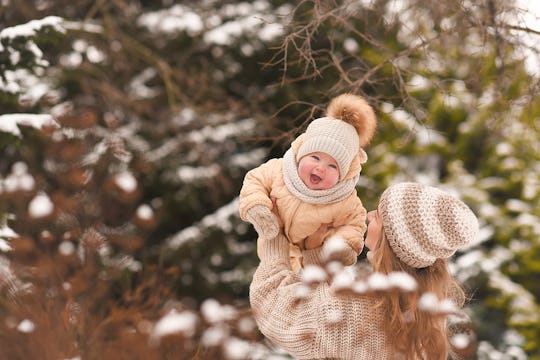 Shutterstock
7 Old Wives' Tales About Babies Born On The Winter Solstice
The harsh winter birthday can lead to a strong, easygoing little babe.
Traditions, myths, legends; whatever word or term you use to describe wisdom from an era long gone, it's interesting how some ancient stories can still hold significant meaning today. Could it be the excitement and allure of the unknown that gives these mystic beliefs such staying power? Whatever it is, almost nothing is as mysterious or miraculous as giving birth. Regardless of your personal stance on the matter of myths, you might be surprised to find out that there are some particularly peculiar old wives' tales about babies born on the winter solstice. Whether your little one was delivered many moons ago or your due date is quickly approaching, understanding the cultural significance of having a winter solstice birthday can be quite enlightening.
As Romper previously reported, the winter solstice is the point in time when the earth is tilted farthest away from the sun. It also marks the first day of the astrological winter for the Northern Hemisphere. The date varies a bit each year, but it typically falls between Dec. 21 through Dec. 23. In 2022, the winter solstice happens on Dec. 21 at 4:48 p.m. EST, according to The Old Farmer's Almanac.
The winter solstice is the shortest day of the year, but the longest night. It marks a turning point in the seasons since the nights that follow will grow shorter and shorter until the summer solstice — a day that is basically the exact opposite.This change is a cause for celebration that the harsh winter will end and sunnier days are on the (eventual) horizon. Perhaps it's not a coincidence that old wives' tales exist about the winter solstice's influence on a baby's birth, since both mark new beginnings.
Though it's an astrological event, the winter solstice can be very spiritual in nature. So even if you aren't really superstitious (but you are a little bit stitious) these old wives' tales about having a winter solstice baby are interesting to ponder as your little one grows.
Studies referenced:
Birth Season Affects Your Mood In Later Life. (2014, October 19.) Dr. Xenia Gonda, Semmelweis University in Budapest, European College of Neuropsychopharmacology
This article was originally published on