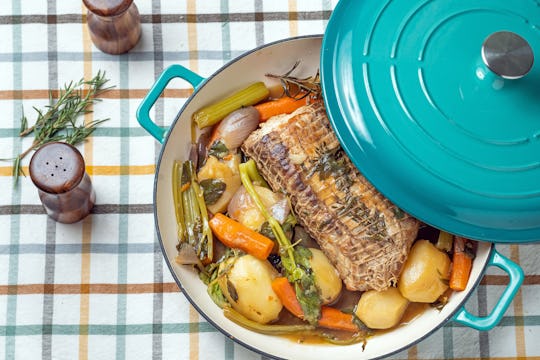 Carlo A/Moment/Getty Images
22 One-Pot Meals Without Pasta To Feed Your Whole Tired-Of-Spaghetti Family
And don't worry — there's more than just rice and beans here.
For those times when you just want to cook a delicious dinner without having to scrub a plethora of pots afterward, one-pot meals are totally life-giving. Most of the go-to recipes I know of feature noodles as the main ingredient, but these one-pot meals without pasta are easy to throw together even if you're fresh out of gnocchi.
Some of the one-pot meals below are absolutely riffs of your favorite pasta dishes with a few potatoes or rice thrown in for good measure. But, if you just want a healthy, well-rounded dish that doesn't require 15 pots and pans, several of theses dishes are made using only meat and veggies. Plus, just because they're often called "one-pot" meals, doesn't mean you can't switch it up and utilize one skillet or one pan instead. Maybe we should call it "one cooking surface" meals.
While I love a good simple-to-make pasta dish just as much as the next mom, my kids can only handle so many bowls of spaghetti before they claim they no longer "like" it. Even a tasty fettuccini sometimes just doesn't do the trick. These crave-worthy one-pot meals are perfect for days when (for whatever reason) pasta just won't do.
Pasta doesn't have to be the star of the show. If you need a one-pot recipe with a little more variety, there are plenty of delicious options. Make them for dinner, make them for lunch, and make them just to freeze for a future meal.
This article was originally published on