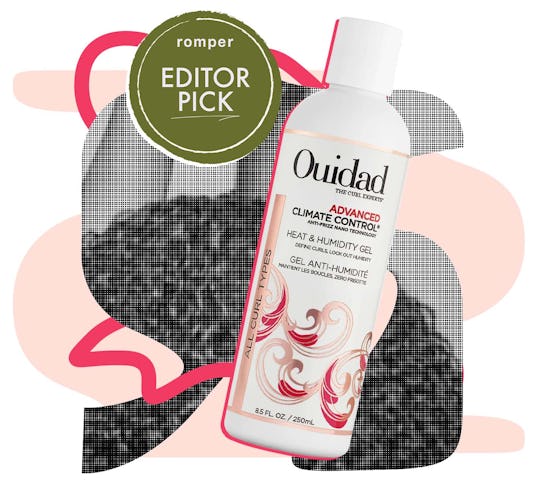 I've Been Using This Curly Hair Gel For Over A Decade & I'll Never Stop
Say goodbye to summer frizz.
Had To Share
We may receive a portion of sales if you purchase a product through a link in this article.
As a curly girl who hit middle school in the early 2000s, let me tell you that learning how to style my hair took a long time to figure out. It was the era when every celebrity had pin-straight hair (crimping was in, but that's not the same thing), resources like Instagram didn't exist, and my own mother had the glossiest straight hair she barely had to touch to make it look perfect. It was rough, you guys.
As a 13-year-old trying to keep up with the trends, I often resorted to straightening my hair. But this, as those of you with curly hair that expands at any hint of humidity already know, does not end well. Eventually my hair got too dry and damaged to continue on with my regular straightening routine, and as I transitioned from middle to high school, I decided it was time to embrace my curls. Enter: the Ouidad Advanced Climate Control hair gel. I've been using it ever since then and it still holds up.
Before I discovered the miracle that is Ouidad Advanced Climate Control gel, other curly hair gels made my hair either super stiff and crunchy, wet-feeling and plastered to my head, or somehow unintentionally poofy. But this product magically solves all of these problems (and also happens to smell amazing).
These days, I like to keep my curls loose and wavy. I have a loose, S-shape curl pattern, and lean into that by using the Advanced Climate Control gel and letting my hair air dry. The Advanced Climate Control gel has never steered me wrong. But the brand has a variety of products targeted to different types of curls — like the Curl Quencher for tight curls or Coil Infusion for coily hair — so you can do you.
Stats
Price: $26 for 8.5 oz.
Sizes: 2.5 oz., 8.5 oz., or 33.8 oz.
Color: Clear
Who's it for: Anyone with curly hair who wants a product that helps define their curls.
Pro-tip: Ouidad encourages you to divide damp hair into sections, rake the gel through each section with your hands, and then shape your curls one at a time — but that takes a long time. I twirl a few curls with my fingers, then just scrunch the gel in everywhere else.
The packaging
The Ouidad Advanced Climate Control comes in three different sizes. The smaller two are in bottle form, and are very easy to squeeze product out of. The gel consistency is also so lightweight that you can be sure you're getting every last drop at the end because nothing sticks to the bottom.
The 33-oz. size (which is what I buy) is a big tub with a dispenser pump. I like the ease of the pump, but the gel can also come out a little fast, sometimes giving me more than I need at the moment. It's totally manageable, but worth noting if you're going to purchase the big bottle.
The scent
OK, I am truly terrible at identifying and describing tastes and smells, but I can confirm that this hair gel smells absolutely amazing, enough so that I have gotten numerous compliments on it. The Ouidad website describes it as having top notes of rose, mandarin orange, and lemon, if that helps.
The ingredients
Ouidad's gel formula is also cruelty-free and free from silicones, parabens, sulfates, mineral oil, phthalates, and petroleum. There are, of course, still a lot of ingredients on the back of the bottle that are just cosmetic chemistry names, but here are the highlights:
Anti-Frizz Nano Technology formulated with sericin (a protein derived from silk)
Shea and murumuru butters to condition
Wheat and soy proteins for strength
Ceramides for moisture
How I use the Ouidad Advanced Climate Control hair gel
My hair using the Ouidad hair gel during winter, when I wear it long.Alexa Thompson
And on my short summer cut.Alexa Thompson
Ouidad provides specific instructions on how to use the gel, but over the years, I've developed a variation that works better for me (and moves along a little faster). Once you tell me to section off my hair, it's too much of a process for me. So here's what I do:
After getting out of the shower, I towel dry my hair, flipping it over and squeezing water out while scrunching with a towel.
While my hair is still damp, I quickly run my fingers through it. Where the curls are already forming, I pick out a few I want to define. I take the curl and twirl the hair around my finger, starting at the bottom and working up towards the scalp. This is usually for curls that frame my face or a spot in the back where the texture is coarser. It's helpful to nudge those guys in the right direction.
Then, I put a quarter-sized amount of gel in my palm, rub on both hands, and gently scrunch it in until the gel is evenly distributed. I usually use about two pumps of gel total on my shoulder length hair.
I let it air dry and that's it! If there's a stray curl that dried in a wonky direction, I'll either wet it again and re-curl it with my fingers or use a curling iron for touch-ups.
Pros & cons
Pros:
It makes styling curly hair easy.
Its lightweight formula doesn't leave your hair feeling crunchy or flaky.
It manages frizz so well, even in the humidity.
It defines curls so well by itself, I don't feel the need to use a diffuser.
It smells really, really good.
Cons:
My curls become less defined after sleeping on them, so it doesn't hold for more than two days without touch ups.
It certainly helps prevent frizz in the humidity, but doesn't completely tame my hair on really hot or rainy days — but I think that's just life with curly hair.
The final verdict
As someone with naturally curly hair that is sensitive to temperature, humidity, sleeping positions, and length, and generally just has a mind of its own, this hair gel has given me some form of control.
The TL;DR
This tried and true (since high school) product is averagely priced, easy to apply, and doesn't leave curls feeling crunchy!
Had To Share highlights the products and finds that Romper editors and contributors love so much, we just had to share in the group chat.