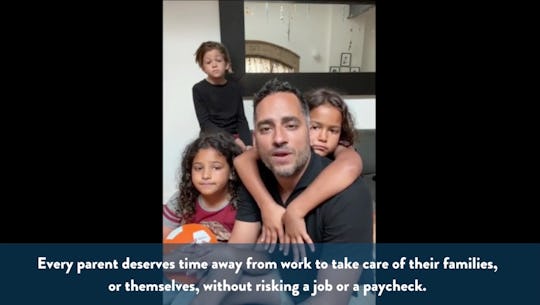 Paid Leave for All
Dads Share What Paid Family Leave Would Mean To Them In Heartwarming Video
Paid Leave for All's new video highlights the importance of paid family and medical leave for all working parents.
Dads deserve time with their kids just like moms do, yet for some reason, the United States is one of the only countries in the world without a national paid leave policy. Paid Leave for All is working to change that, and the campaign's Father's Day campaign highlights just how important it is for fathers — and all working people — to have paid family and medical leave to care for their loved ones.
The new video features elected officials, influencers, and other dads, who share what paid leave has meant to them. "Too many dads can't be there for a first smile, can't be there for a broken bone, can't be there to care and bond with our own kids," participants in the video say. "Every parent deserves time away from work to take care of their families, or themselves, without risking a job or a paycheck. Paid leave lets us be better dads."
The video features several notable figures: Rep. Colin Allred; Jason Resendez, President and CEO of National Alliance for Caregiving; Rory O'Malley, an actor in Book of Mormon; musician Jonathan Singletary; Michael Skolnik, partner and co-founder of Soze Agency; Josh Levs, former CNN journalist and fatherhood advocate; Michael Wieder, co-founder of Lalo; Ted Iobst, founder of Colugo; author Donte Palmer; entrepreneur Terry Rice; and influencer José Rolón (@nycgaydad).
You can watch the full video below:
Paid Leave for All is the national campaign of organizations leading the fight for paid family and medical leave. It won the Family Medical Leave Act (FMLA) in 1993, supported paid leave victories across the country with bipartisan and business support, led the field with bold ideas and sector-defining research, and mobilizes workers and small businesses who are often excluded from policy decisions.
The campaign's new video, which was also shared on Twitter on June 17, focuses on paternity leave. According to the "Fathers Need Paid Family and Medical Leave" article published in the June 2022 issue of National Partnership for Women & Families, one study found only one in 20 fathers in professional jobs took more than two weeks off after their most recent child was born, and three out of four took one week or less.
Additionally, only 23% of all workers have access to paid family leave through an employer, and just 13% of private sector workers are employed at worksites that offer paid paternity leave to all male employees. How are dads supposed to develop a strong bond with their kids and step up in childcare duties without the resources and support they need?
"This Father's Day, let's give dads the time to care and bond with their children," wrote Paid Leave for All on Twitter. "Let's give the gift of #PaidLeaveForAll."
Take action to help dads by contacting your senators and representatives and asking them to pass permanent paid family and medical leave today. Dads deserve it.