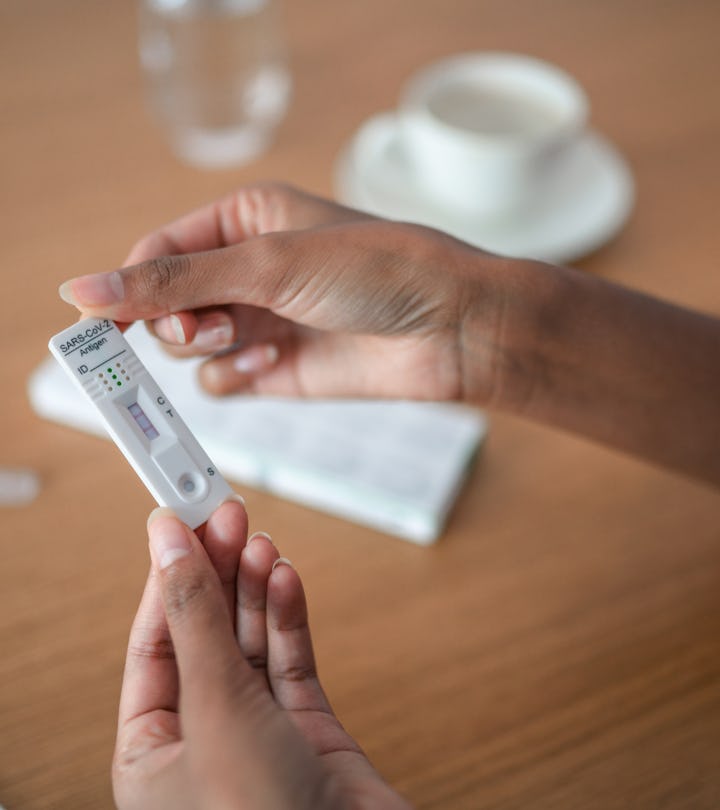 AzmanL/E+/Getty Images
17 Pictures Of Positive Covid Test Results
So many tests, so many little lines.
Covid testing and vaccination has come a long way since 2020. Back at the start of the pandemic, tests were unreliable and nearly impossible to get. But now we have access to at-home Covid tests, sometimes even free ones from the government or your insurance provider, which is incredibly useful especially now that Covid cases across the country have been on the rise since the end of summer. They are convenient to have on hand if you've recently been exposed to someone with Covid, have symptoms that you suspect are Covid, or are going to visit someone elderly or vulnerable. In order to accurately read your test, it's helpful to have pictures of positive Covid tests to use as a point of reference because the result is sometimes not glaringly obvious.
Are at-home Covid tests reliable?
It's fair to wonder whether or not at-home Covid tests are reliable. "Yes [at-home Covid tests are reliable], but as with all testing platforms they have advantages/disadvantages," says Thomas Denny, a Professor in Medicine at the Duke Human Vaccine Institute at Duke University School of Medicine.
False negatives (you have Covid, but it's not showing up on the test) are far more common than false positives (you don't have Covid but the test indicates that you do). The best way to ensure that a negative result is correct is to keep testing, Denny says. "[False negatives] can be countered by repeat testing over a few days," he explains, "Repeated negatives increase the certainty of a true negative."
What if the test expired?
The FDA has extended the expiration date for many brands' tests. You can look up your Covid test's updated expiration date here.
Antigen versus PCR: Different types of Covid tests available for at-home testing
There are two types of Covid-19 diagnostic tests that are FDA-approved for home testing: Rapid antigen tests, which most of the at-home tests are, and molecular tests commonly referred to as PCR (polymerase chain reaction) tests. Rapid antigen tests detect Covid when you're carrying a lot of the virus. Molecular tests tend to be more sensitive, so they can detect Covid infection earlier than antigen tests can — from a few hours up to a few days faster. However, that accuracy and speed come with a price tag, and the cheaper antigen tests are still an incredibly useful tool for detecting contagious Covid infection. It's worth noting that Covid self-tests performed at home are not as reliable as those performed in a laboratory setting. However, if you have a positive result on either a rapid antigen or molecular test, you should trust that result, because false positives are very, very rare, says Denny.
How and when to take a Covid test
"One of the biggest variables to all testing is to have a good quality swab process," says Denny. It's extremely important to read and follow the directions that come in your at-home Covid test so that you get an accurate result. As for when to take an at-home Covid test, there is no perfect answer. "When an individual turns positive is related to the specific variant, because they have different incubation periods, and how much exposure someone has had," Denny explains.
Your best bet is to take a test as soon as you start experiencing symptoms, or once you know you've been exposed. If it comes back as a false negative at that point, Denny says you're "most likely not able to transmit [the virus] to others on that day." However, don't trust the negative result right away, wait another day and take another test (and possibly a thir test another a day or so after that one).
If you have Covid-19 symptoms but your at-home test yields a negative result, the FDA advises testing again after 48 hours (2 days) until you've taken 3 tests. If you are still testing negative but have Covid symptoms, it might be time to visit a facility (like an urgent care) where you can get a laboratory PCR test.
If you test positive, the CDC recommends isolating for a minimum of 5 days, regardless of symptoms, and until you are fever-free for 24 hours and symptoms are generally improving. You should wear a mask for at least 10 days. Your immunity should last about 3 months. If you haven't received the vaccine or booster yet, the latest shot, which rolled out in September 2023, offers protection from a variety of strains including the original Covid-19 strains and the most recently discovered ones.
Photos of positive at-home Covid-19 tests
So, how will you know if the test is positive, though? Here are some photos of positive Covid test results to help you read your result.
"Testing is an important tool to limit infections to others and we need to continue to develop strong testing capacity in the U.S." Denny reiterates. Using these photos of positive Covid test results as a point of reference can be very helpful in determining whether or not you're positive for the virus. If you see any indication of a positive result — even a super faint second line — you should assume you have Covid and check in with your health care provider.
Expert:
Thomas Denny, MSc, MPhil, Professor in Medicine at the Duke Human Vaccine Institute at Duke University School of Medicine
This article was originally published on