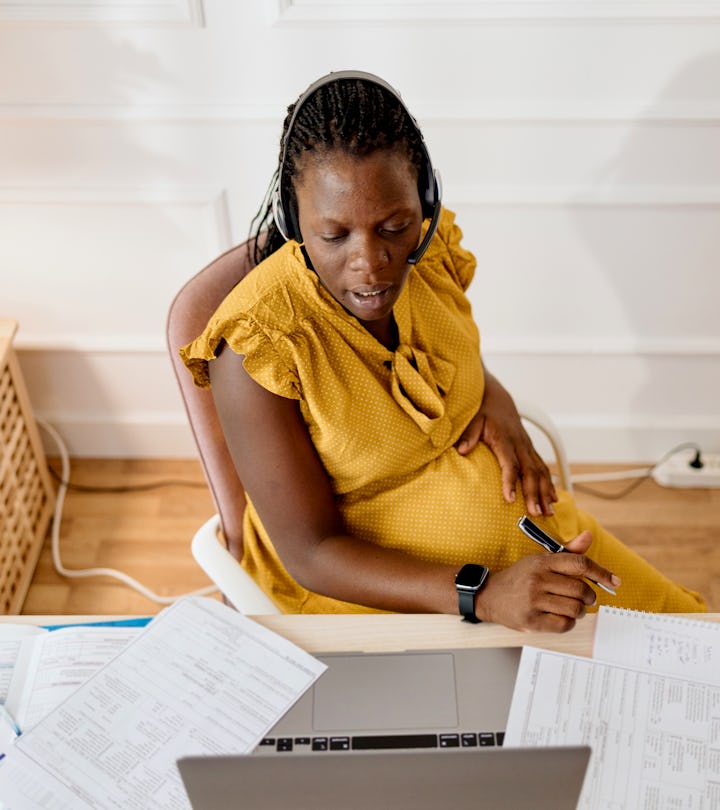 Anchiy/E+/Getty Images
New Law Says Employers "Have A Duty" To Pregnant Workers & It's About Damn Time
The Pregnant Workers Fairness Act requires "reasonable accommodations" for pregnancy, childbirth, or related medical conditions in the workplace.
After 10 years in the making, a new law will officially go into effect on June 27. The Pregnant Workers Fairness Act (PWFA) establishes more robust federal protections for pregnant and recently pregnant workers that, until now, were dependent upon individual employers, cities, or states. Here's what else you need to know.
Previous protections for pregnant workers have proven insufficient.
Since 1979, pregnant workers in America have been protected from pregnancy discrimination by a combination of the Americans with Disabilities Act (ADA) and the Pregnancy Discrimination Act, an amendment to the Civil Rights Act also known simply as Title VII. But while these laws prohibit discrimination on the basis of pregnancy, childbirth, or related medical conditions (gestational diabetes, for example), their various limitations have frequently been felt by pregnant people. For example, protections and accommodations via the ADA are only available in one's pregnancy-related condition is classified as a disability (pregnancy itself is not). Moreover, neither the ADA nor Title VII require certain basic accommodations for pregnant workers, such as a stool for someone working at a cash register, or permission to have a water bottle on their person if they're working on the floor of a retail space. The National Women's Law Center cites a number of court cases where a pregnant or recently pregnant woman was forced to choose between medically unadvisable work conditions and their job.
The PWFA was first introduced in 2012 by Democratic Sen. Bob Casey.
It was finally passed into law via the Biden Administration's $1.7 trillion dollar omnibus spending bill late last year. "For too long, pregnant workers were denied reasonable accommodations such as extra bathroom breaks, water bottles, and stools for workers who need to stand," Casey tells Romper. "I fought for 10 years to pass the Pregnant Workers Fairness Act because everyone deserves the right to commonsense protections that make it possible for them to work while maintaining a healthy pregnancy — and their employers have a duty to provide them."
Who is covered by the PWFA?
The PWFA applies to applicants and employees of private sector employers of 15 or more employees and certain government employees. These employers must accommodate the "known limitation" resulting from an employee's pregnancy, childbirth, or related condition. In other words, an employee must communicate their limitation/need for an accommodation with their employer; accommodations do not necessarily have to be issued as a matter of course by an employer, but addressed on a person-by-person basis as an employee requires. (More on that in a bit.)
What is a "reasonable accommodation" under the PWFA?
A reasonable accommodation is a change to the work environment provided by the employer that allows an employee equal employment opportunities to co-workers without the pregnancy-related restrictions. The accommodation must also not pose "undue hardship" (a significant logistical difficulty or expense) on an employer.
For example, say Cassandra works at Big Factory Co. She is experiencing swollen, painful ankles from being on her feet for up to eight hours a day. Her doctor has told her to take regular 10 minute breaks, lift lighter boxes, and advised her that drinking more water would also help her condition. Asking the factory provide her with additional breaks, permission keep a water bottle on her (even if neither of those accommodations are generally permitted by company policy), and lift lighter boxes for the duration of her pregnancy would likely be a reasonable accommodation, and denying such an accommodation would be illegal under the PWFA. However, asking for one of those $3,000 massager chairs and, say installation of her own personal water cooler on the other hand, would likely fall under "undue hardship."
Other examples of an accommodation that could qualify as "reasonable," according to a congressional report, include closer parking, flexible hours, water, seating, appropriately sized uniforms and safety apparel, a reprieve from strenuous activities, and additional break time to use the restroom, eat, and rest.
Accommodations must be reached by "interactive process."
This means employer cannot force a pregnant or recently pregnant employee to accept an accommodation the employee themselves did not have a say in. Moreover, it is unlawful for an employer to require a qualified employee to take leave (paid or unpaid) if an accommodation is available that would allow the employee to continue working.
If you're lucky enough to live somewhere that enjoys stronger legal protections than provided by the PWFA (as of December 2020, there are 30 states and five cities), don't worry: those rules are not preempted. In other words, the law that provides the most protection is the one that will be followed.
There are protections for pregnant workers before June 27, 2023.
Prior to the PWFA taking effect, workers who require accommodations due to pregnancy, childbirth, or a medical condition related to either, may still be eligible for an accommodation under either the ADA or Title VII. Workers affected by pregnancy, childbirth, or a related medical condition may already be eligible for an accommodation under Title VII or the ADA, and the U.S. Equal Employment Opportunity Commission (EEOC) will continue to accept and process Title VII and/or ADA charges regarding a lack of accommodation until the PWFA goes into effect.