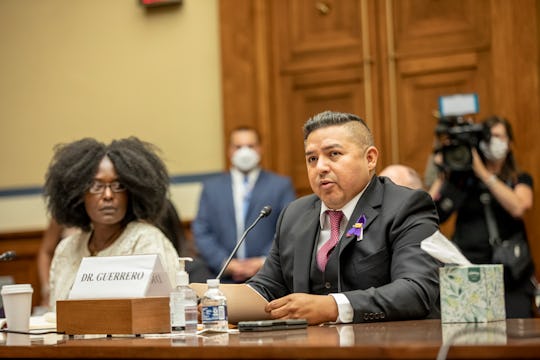 Pool/Getty Images News/Getty Images
House Passes Gun Reform Package "Protecting Our Kids Act" After Harrowing Testimony
The bill would, in part, raise the minimum age to buy a semiautomatic firearm to 21.
On Wednesday, the House voted 223 to 204 to pass H.R. 7910, also known as the Protecting Our Kids Act. While representatives voted largely along party lines, five Republicans joined Democrats in approving the measure while two Democrats joined Republicans in dissent. If enacted, the bill would raise the minimum age to buy a semiautomatic firearm from 18 to 21, ban high capacity ammunition magazines, establish a federal framework regarding the storage of firearms, and establish new federal criminal offenses for gun trafficking and related conduct.
The Protecting Our Kids Act was passed in the House after harrowing and heartbreaking testimony from Robb Elementary survivor, fourth grader Miah Cerrillo; parents of Robb Elementary victim Lexi Rubio, Felix and Kimberly Rubio; Zeneta Everhart, mother of a survivor of the Buffalo supermarket shooting; and Dr. Roy Guerrero, an Uvalde-based pediatrician who treated shooting victims before and after the attack. None of the speakers shied from painting a graphic picture of what, exactly, is at stake.
Content Warning: What follows includes graphic descriptions of gun violence.
Cerrillo's testimony, recorded in advance, detailed the horror of having the shooter enter her classroom. The young girl noted that he told her teacher "Goodnight," before going on to shoot some of her classmates, including her friend next to her. "I thought he was going to come back to the room so I grabbed the blood and I put it all over me," she said. Despite her fear, she managed to find her teacher's phone and call 911.
Dr. Guerrero's testimony was similarly graphic as he described what weapons like an AR-15 do to the human body, noting that some of the children murdered at Robb Elementary had to be identified by their tattered clothing, having been rendered unrecognizable by bullets. (His report, in fact, had the word "decapitated" trending on Twitter.) "I will never forget what I saw that day," he said. "Those mothers cries, I will never get out of my head."
"I swore an oath to do no harm, after witnessing firsthand the carnage in my hometown of Uvalde, to stay silent would betrayed that oath. Inaction is harm. Passivity is harm. Delay is harm."
Zaire Goodman was working at Tops Friendly Markets in Buffalo when a white supremacist attacked, less than two weeks before the shooting in Uvalde. When his mother, Everhart, spoke for reform, her voice wavered with emotion, but was clear and determined, highlighting how violence against Black people is foundational to America itself and that things must change. "If after hearing from me and the other people testifying here today does not move you to act on gun laws," she concluded. "I invite you to my home to help me clean Zaire's wounds so that you may see up close the damage that has been caused to my son and to my community."
The majority of House Republicans were unmoved, it would seem. Speaking during the hearing, Rep. James Comer (R- KY) posited that "knee-jerk reactions to impose gun control policies that seek to curtail our constitutional right to bear arms are not the answer," and that such actions "vilify" responsible gun owners. Reps. Jared Golden (D-ME) and Kurt Shrader (D-OR) joined their Republican colleagues.
Rep. Brian Fitzpatrick (R-PA), one of five other Republicans to vote with Democrats, noted that support of the Second Amendment and gun safety bills are not mutually exclusive. "I am a strong supporter of the Second Amendment and all of the protections that it entails. I also believe that we have no higher responsibility as leaders, no higher responsibility as human beings, than to protect our children and to keep our community safe."
But while the measure passed the House, handily if not by a wide margin, and President Joe Biden has signaled that he would sign gun reform into law, the bill's fate in the Senate looks grim. Staunch GOP opposition to tightening gun laws make it unlikely to have enough votes to pass both chambers of Congress.
According to the Gun Violence Archive — a non-profit which tracks and documents incidents of gun violence and gun crime nationally — there have been 38 mass shootings since Uvalde and 54 since Buffalo.