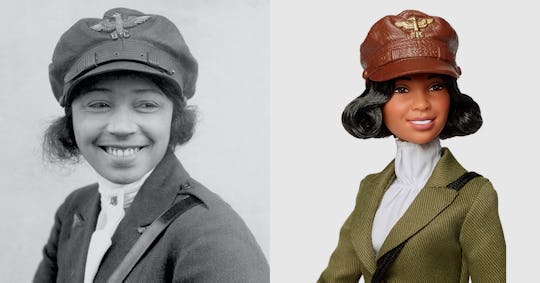 George Rinhart/Corbis Historical/Getty Images | Mattel
Barbie Honors Aviator "Queen" Bessie Coleman In Their Inspiring Women Line
Her legacy helped pave the way for other women and people of color.
The legacy of "Queen" Bessie Coleman lives on! Ahead of the trail-blazing aviator's January 26 birthday and the beginning of Black History Month, Mattel is honoring the first Black and Native American female pilot with a Barbie doll made in her likeness as part of the company's Inspiring Women collection. The line is dedicated to "honoring historical and present-day role models who paved the way for generations of girls to dream bigger than ever before." The Queen Bessie doll joins previous dolls in the line, including Dr. Maya Angelou, Amelia Earhart, Madam C.J. Walker, Ida B. Wells, Eleanor Roosevelt, and Susan B. Anthony.
Coleman was the first Black and Native American female aviator and the first Black person to ever earn an international pilot's license. Because of segregation, she was denied entry into American flying schools. As a result, Coleman taught herself French and moved to France and earned her license from the Caudron Brothers School of Aviation in just seven months. She was killed at the age of 34 while rehearsing for an aerial show in 1926. The doll will feature Coleman's signature olive-green aviator suit and tall lace-up boots. She wears a cap emblazoned with her initials: "BC."
"Bessie Coleman broke monumental boundaries for women and people of color during her career as an aviator," says Lisa McKnight, Executive Vice President and Global Head of Barbie & Dolls of Mattel in a statement. "As the first Black and Native American female pilot, Bessie is a remarkable icon to inspire children everywhere to soar to greater heights. Barbie is thrilled to introduce the Bessie Coleman Inspiring Women doll and continue to amplify Bessie's passion for encouraging people of color to pursue careers in aviation."
Coleman's great-niece, Gigi Coleman, teamed up with Barbie on this project.
"Keeping Bessie's legacy alive has always been a labor of love for my family, and we are proud to recognize her determination and accomplishments for Black women in aviation and continue to share my great aunt's pioneering spirit with fans of all ages," she says. She added that she grew up learning about her great-aunt's courage and looks forward to sharing her story in a new book.
In honor of the release of the Queen Bessie doll, Barbie has also partnered with Bessie Coleman Aviation All-Stars, an organization that promotes the legacy of Bessie through science, technology, engineering, math(Gigi Coleman is also the president), and with Girls Write Now, a non-profit organization that seeks to break down barriers of gender, race, age and poverty to mentor the next generation of writers and leaders.
The Queen Bessie Barbie is priced at $35 and is available on Amazon, Walmart, Target, Mattel Creations, and Mattel Shop.