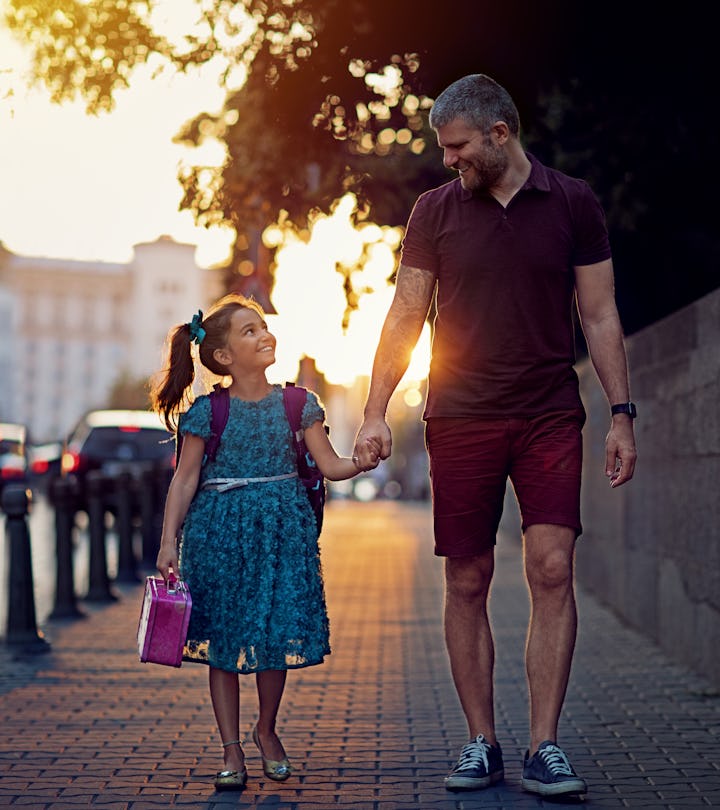 praetorianphoto/E+/Getty Images
7 Questions To Ask Your Child's Kindergarten Teacher
Because they have answers, and they're happy to help.
It's almost impossible to avoid clichés when approaching a parenting milestone, and staring down the first day of kindergarten is a huge one. Wasn't it just a moment ago that you were carrying your little nugget around in a baby carrier? It feels like you blinked and now, somehow, they're old enough to start kindergarten. The head spins — and not just with emotions. Amidst all the bittersweet feelings of excitement, pride and sadness is the logistical hurdle of registering your child for school and figuring out exactly what you're supposed to do to get yourself and your child ready for the big day. But before you snap that milestone first-day-of-big-kid-school photo, there are some questions you should ask your child's kindergarten teacher.
Kindergarteners undoubtedly have to make a huge adjustment, whether they're transitioning from being at home with you or another caregiver or from a Pre-K or preschool program. They might be adjusting to a larger number of students per classroom, or to life in a classroom, period. While you're budding elementary school superstar might be ready to roll, you may feel a little out of your depth, and that's OK. It's important for parents to figure out how exactly kindergarten has changed since they went toddling off with their first big-kid lunch box many decades ago. Kindergarten is no longer a grade reserved for simply learning how to function in a classroom and collaborate with peers because, in this age of standardized testing, teachers hit the ground running to accumulate reading, writing, and math skills. In fact, kindergarten is often referred to as "the new first grade," so it can be useful to be armed with these questions to ask kindergarten teachers to help your little one thrive in this very important first year of their academic career.
These seven questions to ask about kindergarten will help you feel so much more confident going into this first year of elementary school. Parents should feel empowered to communicate with teachers and comfortable asking these questions — as long as they're willing to really listen, too. It can feel intimidating to make the transition into 'real' school, but, remember — kindergarten teachers do this every year. Your child will be in great hands.
This article was originally published on