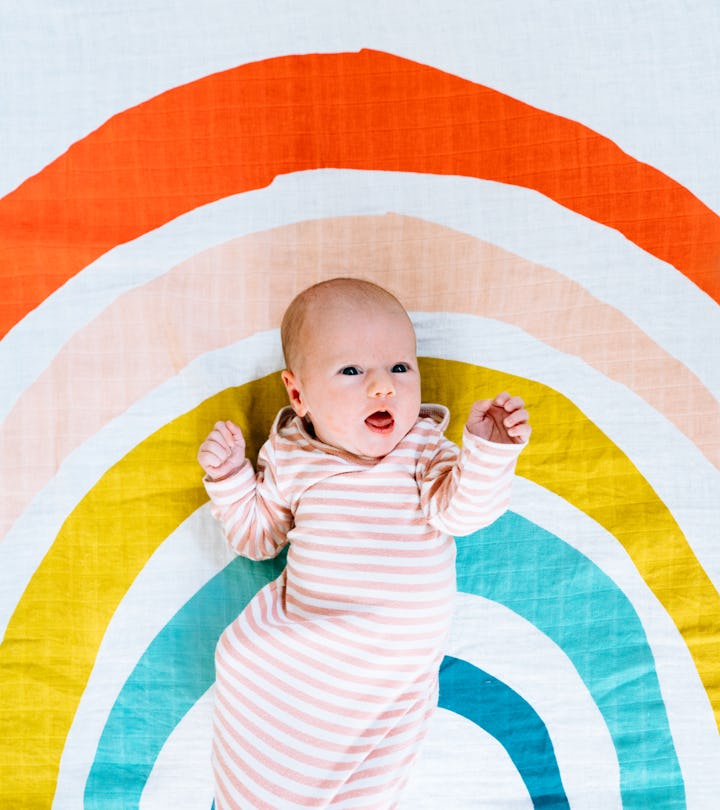 Cavan Images/Cavan/Getty Images
23 Sweet Quotes To Dedicate To Your Rainbow Baby
Because National Rainbow Baby Day deserves some extra special sentiments.
Suffering the loss of a child is probably one of the most unimaginable pains a hopeful parent can endure. That's why the baby born after the one you've lost is considered a "rainbow baby," a special sign of hope after a major emotional storm. August 22 is National Rainbow Baby Day, which exists to celebrate these miracle babies. Whether you're honoring your rainbow baby on this special holiday, or just want some sweet quotes to bring you hope while you're still in the storm, there are plenty of special phrases that really encompass what it means to love a child after a loss.
What is a rainbow baby?
A rainbow baby is a term used to describe a child born to a family who has suffered from a miscarriage, stillbirth, or other infant loss. They're the "rainbow" after the storm and the light at the end of a dark tunnel.
When is National Rainbow Baby Day?
National Rainbow Baby Day is on August 22 every year. And while pregnancy loss and rainbow infants have always been part of life, the holiday recognizing the joy of rainbow babies is a fairly recent creation. National Rainbow Baby Day was created in 2018 by Alexis DelChiaro, an infertility awareness advocate and mother of three.
Coping with the loss of a child, whether it was six weeks into a pregnancy or six years after they were born, is the hardest thing a parent can go through, which is why rainbow babies are so important and special — both to those who have them and those who hope to. Before "rainbow baby" was an official term, my mom had several miscarriages with a previous husband, and a few with my dad before having me. She then had a still birth — my twin sister, so I'm considered my parents' rainbow baby. While they would feel I'm special no matter what, that extra dose of hope and love that comes with a rainbow baby can really make a big difference. A new baby would never replace the child you lost, but rainbow babies definitely have a special place in our hearts because they truly are a rainbow after the storm. Hopefully these quotes bring some sort of peace, and help you celebrate the little bundle of joy you have in your life. And as a rainbow baby, these quotes certainly make me feel honored and loved.
Celebrate your own sweet rainbow baby by using these quotes for a social media caption or just read through them to know you're not alone in your journey.
This article was originally published on