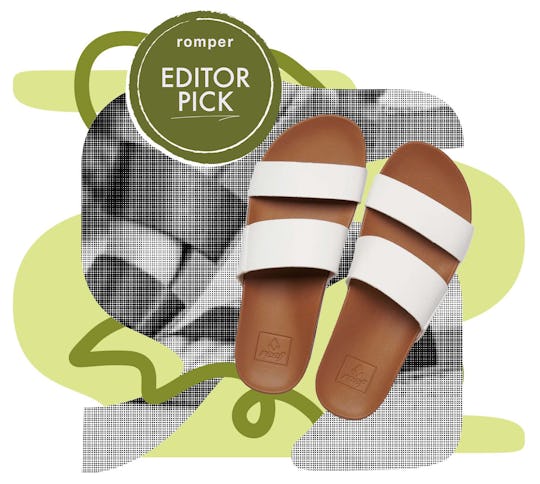 REEF/Romper
I've Lived In Florida For 20 Years & This Is The Best Summer Sandal
And they're actually cute.
Had To Share
We may receive a portion of sales if you purchase a product through a link in this article.
I've lived in Florida my whole life, spending my weeks going to school in a quaint beachside town with my mom and the weekends in the country with my dad. I remember squirreling away birthday and Christmas money to buy clothes at Pac Sun from the surf brands all my cool classmates wore — Roxy, Billabong, Quiksilver, you know the ones. So when REEF reached out and asked if I'd like to try a pair of their newest women's sandals, I happily accepted. Sandals are appropriate nearly year-round here, so I figured that even if I didn't love them, I could throw them on for dirty, muddy, sandy backyard playtime with my 2-year-old. Little did I know the Cushion Vista Slides would be my new summer wardrobe staple.
Listen, I know a good sandal. For decades I have worn (and worn out) sandals in every imaginable style, wearing them to lakes, springs, and beaches, on boats and in kayaks. Of course, most months of the year I wear them everywhere else too: running errands, out with friends, and to daycare drop-off and pickup. The REEF slides are the first shoe I feel truly comfortable in in every single one of those places. They always look good. They're basically waterproof and wipe clean. And my god are they comfortable.
Stats
Price: $55
Sizes: Women's 5 to 11
Colors: White, black with brown sole, all black, black and brown straps, natural, and a multicolored stripe. They also come in a platform style.
Who it's for: Anyone who wants a comfortable, cute summer sandal that holds up to water, dirt, and sand.
How I wear the REEF Cushion Vista slides
It might be easier to tell you when I don't wear these shoes, which is when I'm in my house or asleep. Otherwise, if I'm in a place where shoes are part of the social contract, I'm rocking these (it's Florida, after all, and we like to be barefoot).
As far as which outfits these sandals work with, the answer is all of them. I've worn them to a backyard seafood boil on Mother's Day with a breezy maxi dress. They look just as good with ripped jeans or black shorts and a band tee, subbing in nicely for my usual white Vans. And they're the perfect beach or boat day shoe to complement my (fake) tan. And in the interest of transparency, I wear them with random T-shirts and bike shorts all the time to take my son to and from daycare. They get the job done there too.
I have already worn them countless times around water, from boating and swimming to playing outside with my son in his kiddie pool. REEF doesn't claim these are truly waterproof, but I've definitely found them to be water-resistant. I have stepped in water, stuck my wet feet into them, squashed through mud, you get the picture. They have survived it all. If they're dirty, I wipe them clean with a damp paper towel or a Lysol wipe and they look brand new again (which for white shoes is basically unheard of).
So cute with distressed jeans.
My summer uniform: black denim shorts, fake tan, white REEF sandals.
We didn't get great Mother's Day pics (thank you toddler), but here's a peek at the shoe dressed up.
How they feel
I don't know about you, but while I was pregnant, my arches disappeared. So, the cheap sandals of my youth have become too uncomfortable to wear, and I need more arch support for my flat little pancake feet than I used to.
The REEF slides are designed with arch support and a cupped heel for way more comfort than your average sandal offers, and they have a slightly wider footbed than most. You wouldn't know that from looking at them, but you can feel the difference — the straps don't dig in, and you don't have to smush your foot underneath them or finagle them into place (is this just me and my pancake feet again?).
The sole is squishy and soft to walk in (the REEF website describes it as a high-energy rebound footbed), and they're comfortable enough that I've worn them to walk around the zoo for a few hours straight with no discomfort. The tread on the bottom didn't look too grippy to me at first, but it has kept me from slipping or sliding around when I'm on a wet boat deck, so it's good enough for me.
Pros & cons
Pros:
Say it with me now: arch support.
They're made with PVC-free vegan leather.
They wipe clean to stay looking crisp and new.
The simple design makes them easy to pair with a nice sundress or wear casually.
They're still in like-new condition after months of everyday wear. They will definitely get me through this summer, if not the next few.
Cons:
The inside of the white straps have a soft, pebbled texture to them, which clings to dirt and doesn't wipe clean like the outside. You can't see this when they're on, but mine are grubby underneath from backyard playtime in the dirt.
The brand doesn't say they're waterproof, so maybe don't fully submerge them.
If you have particularly narrow feet, the wider footbed might not work for you.
The final verdict
As the mom of a toddler, I have enough to think about when we're trying to get out the door to go to the pool or on the boat. My footwear is never going to take priority over remembering my kid's life jacket and snacks. Having these REEF slides around makes getting dressed during times like this, and all throughout the summer, so easy. I can wear them anywhere, they look great with every outfit, and they hold up in any environment. And when we get home from playing outside, they wipe clean and look as good as new.
The TL;DR
These shoes have never seen the inside of my closet; they live right by the front door with my car keys, and probably will until October.
Had To Share highlights the products and finds that Romper editors and contributors love so much, we just had to share in the group chat.