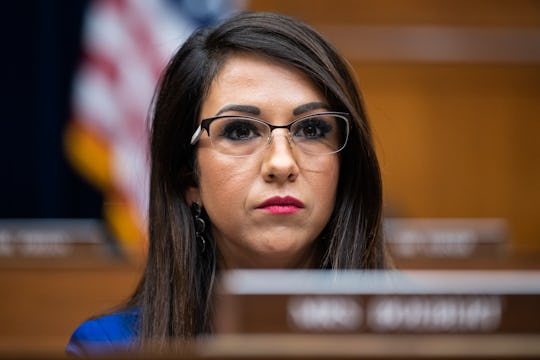 Tom Williams/CQ-Roll Call, Inc./Getty Images
Republican Rep. Lauren Boebert Says Kids Are Cheaper Than Birth Control & LOL, No Ma'am
"I said, 'It's cheaper to have a kid,' and I left it there. And now I have my third son."
Colorado Republican Rep. Lauren Boebert said she had a third child because it was cheaper than trying to get birth control. She was giving official testimony to the House Committee on Oversight and Accountability to discuss prescription drug prices, and presumably she was being serious. Regardless of Boebert's motivation, her assertion that birthing and raising a third child was more cost effective than buying birth control warranted some strong responses online. Including a particularly spicy response from New York Democratic Rep. Alexandria Ocasio-Cortez.
On Tuesday, Boebert offered testimony about a time when she planned to purchase birth control at a pharmacy. "I left a prescription at a pharmacy once," the mom of three said, as reported by The Hill. "I went to get birth control, and I was there at the counter and went to pay for it, and the price was very, very high. I said, 'Wow, is this a three, six-month prescription?' [They said], 'No, ma'am, it's one month.' I said, 'It's cheaper to have a kid,' and I left it there. And now I have my third son Kaydon Boebert. And so, actually, it turned out to be a really great thing. But I personally experienced that when times were tough."
While she did not elaborate on the type of birth control she was trying to purchase, it's worth noting that most birth control pills are covered by health insurance. Sure, if they are not covered by health insurance they could cost up to $50 a month, which I can tell you, as a mother of four, is significantly cheaper than even the cheapest of babies. But don't take my word for it. The U.S. Department of Agriculture estimates that the average yearly cost of raising a baby was approximately $12,980 as of 2017, and I think it's safe to say that it didn't drop as low as $50 per month in the five years since. In fact, a 2023 study found that it can cost over $30,000 a year to raise a child in the United States, depending on where you live.
Rep. Ocasio-Cortez shared Boebert's testimony with her own reaction. "And then she voted against the right to contraception so she could double this problem and give it to the next person," she tweeted, referring to the Right to Contraception Act Boebert did not support.
Beyond AOC's tweet, the reaction on social media was mostly one of shock.
While Boebert's claim is clearly outrageous, this Twitter user pointed to the dangerous anti-choice agenda that could be lurking behind it.
Another noted that, in Boebert's home state of Colorado, it can cost over $10,000 to deliver a baby. That's a whole lot of birth control.
This Twitter user also shared the simple math, comparing the cost of formula to a month of birth control.
Another very kind Twitter user did note that there is some veracity to Boebert's claim. Not taking birth control could possibly be cheaper than taking it. It's just not cheaper than a baby.
Boebert's comment is far off the mark, and she doesn't even bother taking into account the emotional ramifications of the life-upending task of becoming a parent. Birth control is just cheaper than becoming a parent. Even if Lauren Boebert says otherwise.