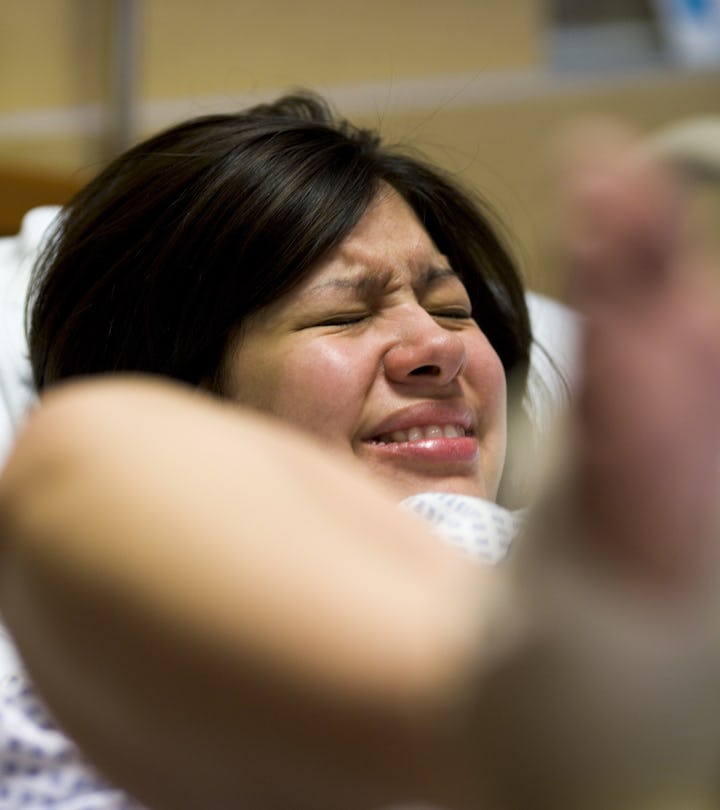 rubberball/Rubberball Productions/Getty Images
What Does Crowning Feel Like? The "Ring Of Fire," Explained
13 moms share what it really feels like.
My first child was born via C-section after eighteen hours of labor. My second time around, it was important to me to do everything I could to have a vaginal delivery. Since those can be difficult to experience after you've had a C-section, I was diligent about doing a ton of research and "inspirational reading." I made a point to read the birth stories of other women who'd had vaginal births after a C-section — also known as having a "VBAC". I wanted to know what they did during childbirth, and what the felt during labor and delivery, including what the "ring of fire" — the sensation of the baby crowning — actually might feel like. I wanted to feel as ready as I could, even though I knew I couldn't really know exactly what was coming.
"Ring of Fire," in addition to being a seismically active area of the Pacific and a song by June Carter Cash, describes that magical moment when a huge baby descends into your vagina and gets ready to come out. Before we get the low-down on exactly what the sensation of the baby crowning felt like, here's what you should know about this stage of labor, what to do if you're in it, and how to get through it.
Whatever happens, know that you're following in the footsteps of every person who has ever had a baby, ever, in the history of the universe. You can do this — even the "ring of fire" will pass, and at the end of it all, you'll be holding your newborn baby.
Sources interviewed:
Alexandra Bratschie, a certified nurse midwife at Corewell Health
This article was originally published on