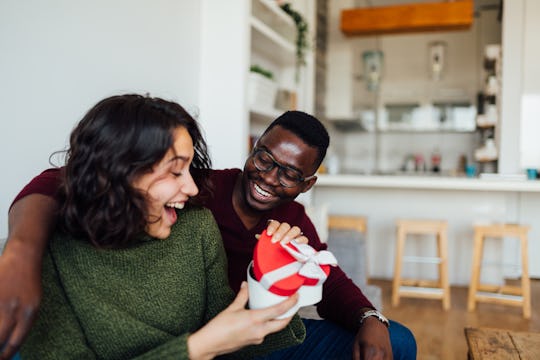 Brothers91/E+/Getty Images
14 Romantic Poems To Make Your Partner Melt On Valentine's Day
These words are like magic.
As soon as the new year hits, stores become a sea of pink hearts and cupid, and chocolates, reminding shoppers that Valentine's Day is on the horizon. This year, like last year, you're probably doing less shopping IRL and (much) more online, so it's understandable if you miss the hint in the store aisles. If you forget a gift this year or you want something less milk chocolate and more heartfelt, these Valentine's Day love poems for your wife (or your husband or partner) will say everything you've been wanting to express, even if you don't fancy yourself a wordsmith.
You and your partner have no doubt been through some, shall I say, *stuff* these past few years, whether it's figuring out how to be homeschool teachers at the drop of a hat, learning to work from home together, or just navigating the normal stressors of life, pandemic aside. Even if you don't typically do much for Valentine's Day, the holiday is a good opportunity to show gratitude and love for your partner, and it doesn't have to take more than a printed out poem from the internet.
We all can't be poets, but anyone can take the words of a poem and write it out by hand or read it out loud (or, let's face it, copy and paste it into a sweet Valentine's Day text because it's the thought that counts, right?). Bonus points if you buy the poet's book as a small but meaningful gift to go along with the poem. And don't forget, writing a short and sweet note of your own goes a long way as well. Here, you'll find 14 of the most romantic Valentine's Day love poems.
*With additional reporting by Alice Emory
This article was originally published on