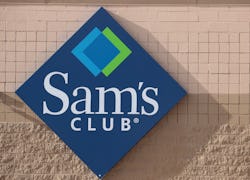 What You Need To Know About The Fourth Of July Hours At Sam's Club
Scott Olson/Getty Images News/Getty Images
If you happen to need cases of fireworks to make a patriotic extravaganza in your backyard.
Sam's is the one-stop shop for pretty much anything you may need for your Fourth of July party. Whether you need 80 hot dogs and buns, 200 liters of soda, an entire pallet of sunscreen, or a brand new patio furniture set just in time for the big day, Sam's has got you covered — especially if you're hosting a really large party. You're probably wondering about if Sam's Club is open on the Fourth of July, because where else are you going to get 80 hot dogs on such short notice? Don't worry, Sam's has got your back and you'll be grilling all those hot dogs in no time. Just don't forget to put on some of that sunscreen first.
Sam's Club Fourth of July hours
Sam's Club is open for business with their regular hours on the Fourth of July. Their hours are 10 a.m. to 8 p.m. Monday through Friday for all members, and opening as early as 8 a.m. for Plus members. Saturdays their club hours are 9 a.m. to 8 p.m. (with early shopping starting at 8 a.m. for Plus members), and Sundays from 10 a.m. to 6 p.m. for everyone.
Sam's Club Fourth of July deals
In honor of summer and all of its barbecues and gatherings, Sam's is giving you an $8 membership offer for an annual club membership. This is available for a limited time from June 17 through June 26 — just in time for you take advantage of these awesome Fourth of July deals at Sam's.
But don't worry, members. Sam's is taking care of you, too, by "unlocking access to summer deals," including $500 off of this gorgeous outdoor dining room set. There's also $50 off this amazing lake and pool float toy — the WOW Sports Floating Island Slide and Water Walkway Combo.