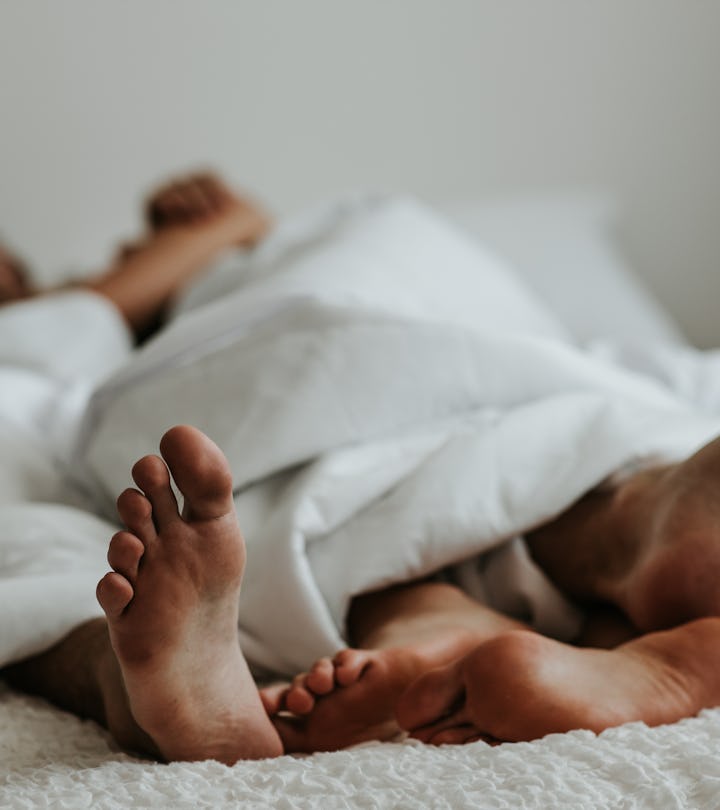 Erdark/E+/Getty Images
6 Comfortable Sex Positions for People With Leg Pain
Get your O, without the 'ow'.
If you've never had a joint crackle loudly in the middle of sex before, don't you worry — your time is coming. Truly, for most of us, sadly, it's not a question of 'if', it's a question of when. As we age, our precious knees always seem to be the first to go. But don't worry, all is not lost — there are sex positions that reduce leg pain.
Personally, my knees and back are about as stable as a proposal from The Bachelor. They just don't love me anymore. My knee is shot from running marathons, and believe it or not, I herniated a disc in my sleep. Yes, you read that right. My husband's body isn't doing much better. Creativity is crucial when it comes to sex. None of us with knee pain want to wake up the day after with a swollen joint and post-coital regret, but we also don't want to be celibate, either. That's why I asked a couple of physical therapists to find out which sex positions are best for people with knee pain. I think you'll be surprised by the variety of choice there are. I know that I certainly was taken aback by their knowledge and creativity.
Check these out and — the fun part — try them for yourself.
Leg pain shouldn't mean that you have to give up on the pleasures your body is meant to experience. With these comfortable sex positions for leg pain, your knee and leg pain won't be holding you back. But, I can't say the same about your screaming toddler or pure parental exhaustion — those things can't be helped.
Sources interviewed:
Dr. Celestine Compton, PT, DPT, a doctor of physical therapy with a board certified specialization in women's and pelvic health.
Dr. Kristina Kehoe, a physical therapist and board-certified women's health specialist.