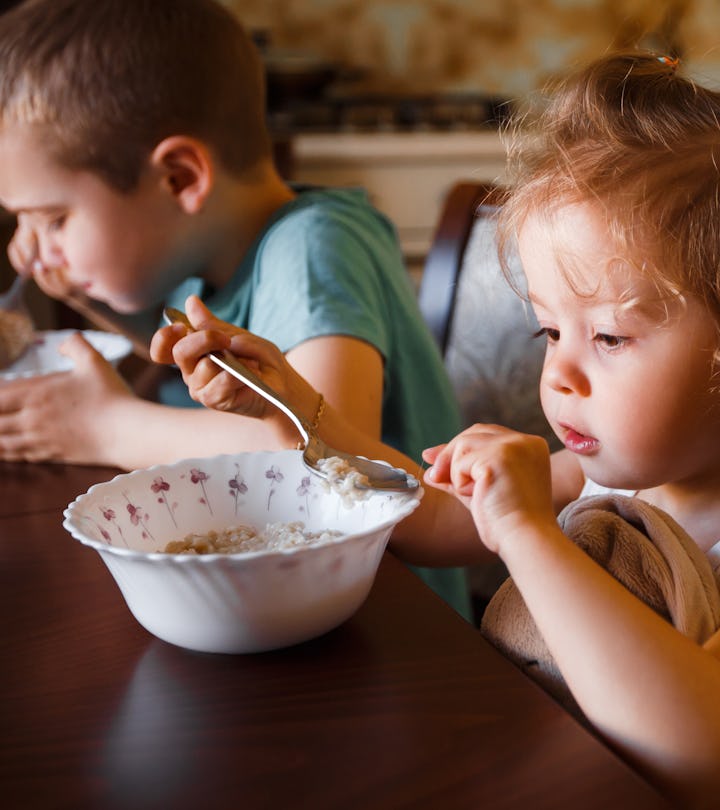 Shutterstock
14 Recipes For Sick Kids When Everyone's Tired Of Canned Soup & Crackers
Even chicken and stars gets old.
When your little one is feeling crummy, you'll do anything to help them get back to feeling their best again (even if you enjoy the extra snuggles on their sick day home from school). So, you may be wondering, are there any recipes for sick kids that will actually help them heal faster? It turns out there are a few things you can serve that will help their bodies beat whatever bug is ailing them.
Best foods for kids with a cold, cough, or sore throat
Why do we always default to eating and serving chicken noodle soup when we're sick? Turns out chicken soup isn't just comforting; it's a home remedy that works. The broth helps with hydration, and the chicken contains an amino acid (called cysteine) that studies show has anti-inflammatory effects, according to Providence Health.
"It's the perfect expectorant — it gets that phlegm out better than Mucinex," says Dr. Randolph "Randy" Thornton, a pediatrician with Jacksonville Pediatrics and Wolfson Children's Hospital. "Chicken soup is still one of my favorite remedies for coughs. Grandparents have preached it or generations and there's actually science behind it."
Pediatricians also say honey is one of the best things you can give a child who's dealing with a cough.
"While it won't make the cough go away, honey is at least as effective as over-the-counter cough medications but is easier to get, much cheaper, and most importantly, avoids the many nasty side effects that make them not recommended in young children under 6," says Dr. Paul Scalici, pediatric hospitalist at Children's of Alabama. One note: honey should never be given to a child under 12 months of age due to the risk of botulism, Scalici says.
If your child likes warm drinks, stir honey into them, or add it to foods they already enjoy, like oatmeal or yogurt.
Aside from these two things to incorporate, Thornton says the best foods to feed your sick kid are, well, whatever they'll actually eat.
"We always recommend a healthy diet, but when they're sick, keep them hydrated and let the child be the judge. If they're hungry, let them eat. There are no strict things about what to hold off on."
Best foods for kids with upset stomach
The American Academy of Pediatrics recommends keeping kids who are vomiting on a liquid diet for 12 to 24 hours, letting them have water, electrolyte drinks (like Pedialyte), and popsicles. Parents might wonder, what about the infamous BRAT diet?
"For diarrhea we used to preach the BRAT diet — bananas, rice, applesauce, and toast — but we've gotten away from that," Thornton says. "It's really just about decreasing the milk and dairy products. If they're vomiting, in general we recommend no solids until they stop vomiting for eight hours, with sips of clear liquids until then."
"Age-appropriate drinks are usually OK — formula and breast milk for infants, or water and milk for toddlers and young children — though giving smaller and more frequent volumes are helpful if there is significant vomiting," adds Scalici. "With diarrhea, I recommend avoiding sweetened beverages (such as sports drinks) and juices due to the high sugar content in them, which can make diarrhea worse."
So, the best recipes for sick kids, if they're dealing with a stomach bug, are no recipes at all. When they are ready to get back to solids, do try to keep food on the bland side until you're sure they're able to keep it down.
Getting your child to eat at all when they're sick is an accomplishment, so if you're not whipping up any homemade dumplings or healing juices, that's OK. Just focus on keeping them hydrated and comfortable while their immune system works its magic.
Experts:
Dr. Randolph "Randy" Thornton, a pediatrician with Jacksonville Pediatrics and Wolfson Children's Hospital
Dr. Paul Scalici, pediatric hospitalist at Children's of Alabama
This article was originally published on