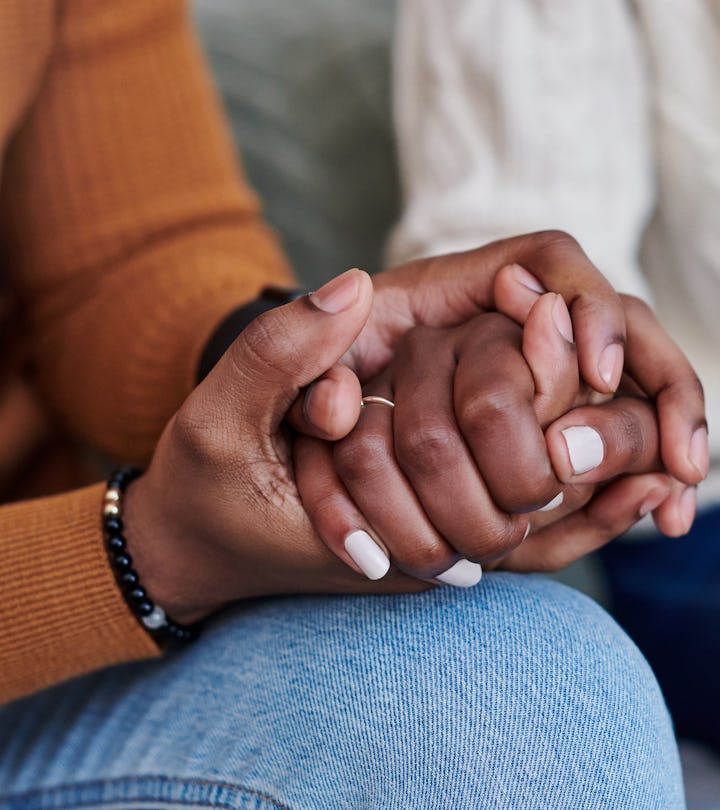 jeffbergen/E+/Getty Images
14 Signs You Should Keep Trying To Make Your Relationship Work
Even if things seem really tough right now.
What's the difference between a relationship-ending disaster and a routine rough patch? These distinctions will vary a bit for every couple. But in general, there are some signs you shouldn't break up, even if things seem really bad at the moment. Sometimes, when you're in a strong relationship that can weather the storm, it'll make you both happier in the long run to stick things out.
First, a caveat: If there are any signs of abuse in the relationship, and you feel afraid, controlled, or isolated, then ending things is likely the best option. Is this an intimidating prospect? The National Domestic Violence Hotline is available 24/7 at 1-800-799-SAFE (7233) or via online chat. Surrounding yourself with supportive people is also crucial to getting out if need be.
That said, even clearly healthy relationships will have some speed bumps along the way. Learning how and when to deal with these issues — even if they're huge points of contention — is crucial for any long-term relationship. In general, though, a strong relationship will be able to withstand routine difficulties. Of course, trying to figure out whether your relationship is solid when you're in the middle of a conflict can make your head spin. To help, review these signs you should not break up, and see whether they apply to your current situation.
Even when your relationship is going through challenges, these signs all point toward your ability to work through it together. Don't be afraid to take the time and space you need to process, then see if you can talk through things with your partner and come out stronger on the other side.
If you or someone you know is experiencing domestic abuse, call 911 or the National Domestic Violence Hotline at 1-800-799-SAFE (7233) or visit thehotline.org.
Studies:
Barton, A.W., Futris, T.G. and Nielsen, R.B. (2015), Linking financial distress to marital quality: The intermediary roles of demand/withdraw and spousal gratitude expressions. Pers Relationship, 22: 536-549. https://doi.org/10.1111/pere.12094
Gable, S., Reis, H., Impett, E., & Asher, E. (2004). What Do You Do When Things Go Right? The Intrapersonal and Interpersonal Benefits of Sharing Positive Events. Journal of Personality and Social Psychology, 87 (2), 228-245 DOI: 10.1037/0022-3514.87.2.228
Experts:
Nicole Richardson, LPC-S, LMFT-S, licensed marriage and family therapist
Susan Winter, relationship expert and author of Breakup Triage: The Cure for Heartache
Anita Chlipala, LMFT, licensed marriage and family therapist and author of First Comes Us: The Busy Couple's Guide to Lasting Love
This article was originally published on