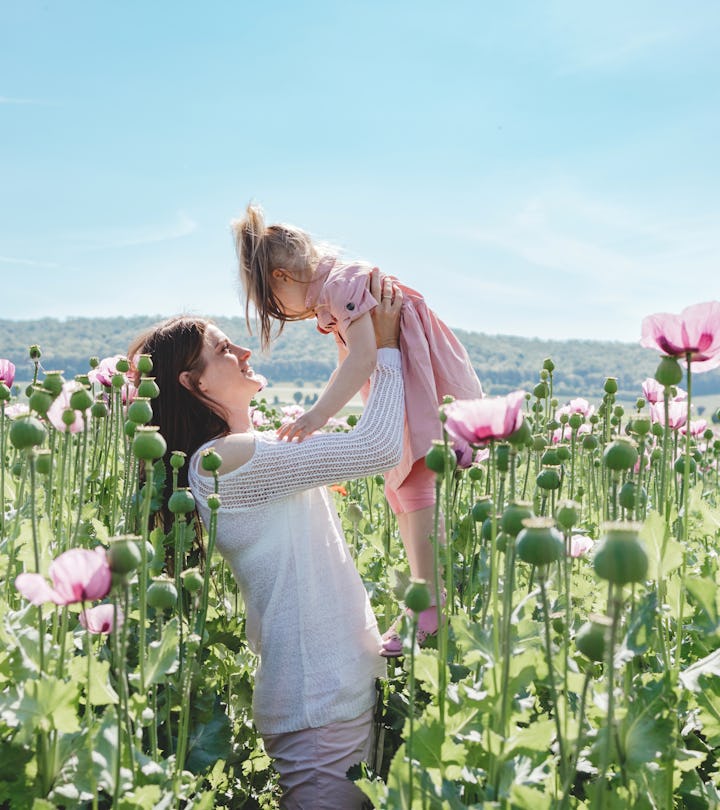 Elena Medoks/Moment/Getty Images
40 Lovely Quotes About Spring
There's so much to look forward to.
The spring season brings with it a feeling of hope and new beginnings. Maybe it's watching colorful flowers pop out of the ground, maybe it's the extra sunshine, or maybe it's the way people seem to have more fun things to say and generally a more positive outlook on life. There's so much to be grateful and excited about. It's a time to appreciate the new things happening all around you, and maybe even give yourself a fresh start as well. The below quotes about spring capture that spirit and can feel inspirational as you move into this new season in life.
They're also a great way to motivate you into diving headfirst into some spring cleaning. You can jot these quotes down in a notebook to read whenever you want, or you can use them as captions for your spring-inspired photos on Instagram. These focus on the optimism that goes along with the start of spring, and will make you excited for the longer days and warmer weather that eventually give way to summer. Celebrate spring however you want, but be sure to keep these quotes about spring in mind while you do.
Quotes about spring and new beginnings
Baby animals, new flowers, green grass, and blooming trees — these are just a few of the things about spring that are synonymous with new beginnings. Embrace the positivity of the season with these quotes that will make you feel so happy about the change in the weather.
"When one flower blooms, spring awakens everywhere." — John O'Donohue
"Happiness? The color of it must be spring green." — Frances Mayes
"Flowers always make people better, happier, more hopeful." — Luther Burbank
"The flowers of late winter and early spring occupy places in our hearts well out of proportion to their size." — Gertrude S. Wister
"The world's favorite season is the spring. All things seem possible in May." — Edwin Way Teale
"Nothing ever seems impossible in spring, you know." — L. M. Montgomery
"I suppose the best kind of spring morning is the best weather that God has to offer." -- Dodie Smith
"An optimist is the human personification of spring." — Susan J. Bissonette
"Spring is when you feel like whistling even with a shoe full of slush." -- Doug Larson
"Spring is when life's alive in everything." — Christina Rosetti
"When spring came, even the false spring, there were no problems except where to be happiest." — Ernest Hemingway
"A flower blossoms for its own joy." — Oscar Wilde
"Spring adds new life and new beauty to all that is." -- Jessica Harrelson
"The beautiful spring came, and when nature resumes her loveliness, the human soul is apt to revive also." — Harriet Ann Jacobs
"Some old-fashioned things like fresh air and sunshine are hard to beat." — Laura Ingalls Wilder
"Spring is nature's way of saying, 'Let's party!" — Robin Williams
"In the spring, at the end of the day, you should smell like dirt." -- Margaret Atwood
"That is one good thing about this world... there are always sure to be more springs." — L. M. Montgomery
"The beautiful spring came; and when Nature resumes her loveliness, the human soul is apt to revive also." -- Harriet Ann Jacobs
"With the coming of spring, I am calm again." — Gustav Mahler
Spring cleaning quotes
While it might not be the most fun and exciting part of the new season, spring cleaning is necessary. And, honestly, after you've done it, you'll feel pretty great about yourself. Spring cleaning is the perfect time to purge your life of the things that are no longer serving you, and the below quotes about spring cleaning will motivate you to do exactly that.
"The objective of cleaning is not just to clean, but to feel happiness living within that environment." — Marie Kondo
"Spring cleaning doesn't have to be a dreaded list of chores. It can be a rewarding experience that helps provide some structure and organization in your life."—Peter Walsh
"If you want to get rid of stuff, you can always do a good spring cleaning. Or you can do what I do. Move."— Ellen DeGeneres
"Cleaning your house while your kids are still growing up is like shoveling the walk before it stops snowing."— Phyllis Diller
"The key to spring cleaning is to be ruthless! Throw out anything and everything you never use." — Josie Brown
"Spring cleaning is a chance to hit the reset on your life." — Unknown
"Get rid of clutter and you may just find that it was blocking the door you've been looking for." — Katrina Mayer
"Having a simplified, uncluttered home is a form of self-care." — Emma Scheib
"The best way to find out what we really need is to get rid of what we don't." — Marie Kondo
"Happiness: a freshly cleaned house." — Unknown
"Have nothing in your house that you don't know to be useful or believe to be beautiful." — William Morris
"Outer order contributes to inner calm." — Gretchen Ruben
"When your environment is clean, you feel happy, healthy, and motivated." — Laila Gifty Akita
"Your home should tell the story of who you are, and be a collection of what you love." — Nate Berkus
"If your stuff isn't serving you, it won't be serving you any better packed away in a box somewhere." — Melissa Camara Wilkins
"Under the influence of clutter, we may underestimate how much time we're giving to the less important stuff." — Zoe Kim
"Clutter smothers. Simplicity breathes." — Terry Guillemets
"How wonderful it is to take the time to create a safe haven for your home. Where your mind, body, and soul can rest." — Hoda
"Your home is living space, not storage space." — Francine Jay
"Clutter is nothing more than postponed decisions." — Barbara Hemphill
Maybe you're celebrating the beginning of spring with a walk around your neighborhood in the hopes to find budding flowers. Maybe your version of celebrating is to do a deep clean of your house with the windows open. Either way, these quotes about spring are a great way to motivate yourself.