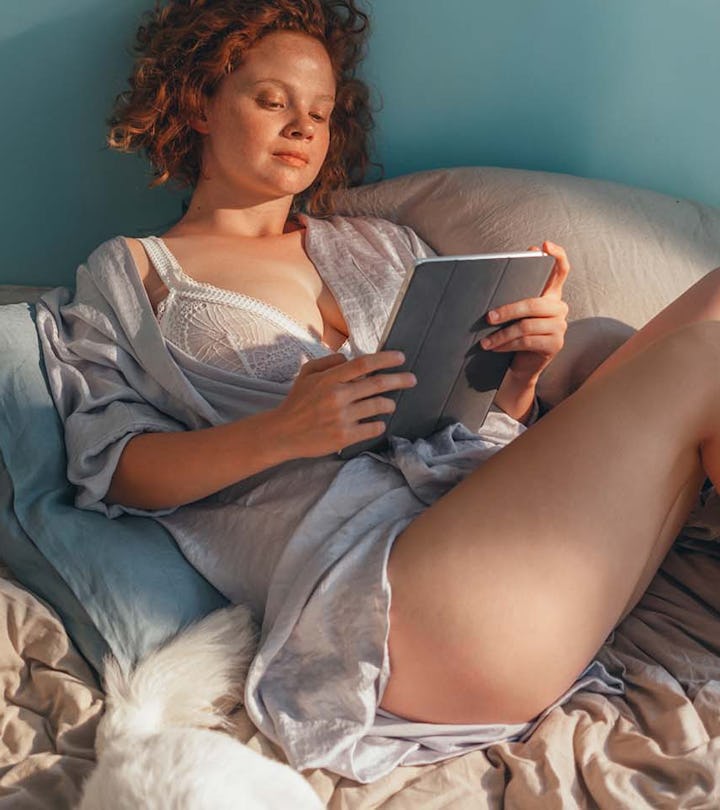 Studio Firma/Stocksy
The Hottest Sex Scenes In Books Right Now
Spice up your library — or your bedside book stack.
I am an avid reader. Typically, I read about a book a day, and the majority of these books are romance novels. Over time I have become super picky about the sex scenes in books. I want them hot, and I want them varied.
In my opinion, the best literary sex scenes tend to happen between characters that put each other's pleasure first, and where consent is enthusiastic and repeated throughout the process. Which is why the majority of the novels on this list were written within the past 10 years. There's no sexual slavery like in Anne Rice's Sleeping Beauty series, and rape isn't so ubiquitous that it's practically a secondary character, like in the Outlander series. Instead, the hottest sex happens between two (or more) willing participants with the singular purpose of taking and receiving pleasure in cooperation with each other. Unlike in real life, the best sex scenes in books include everyone getting their cookies, and often the female/non-male character gets theirs first.
Not that I don't like a bit of the forbidden, it just has to be consensual. For example, there's more than one scene on this list involving members of the clergy, and I don't know if that's just because I am turned on by the idea of defiling a holy man, but judging by the sheer popularity of these novels, there's a good chance that you are, too.
This list comprises the best explicit sex scenes that I have read in the past several years. And as a sex-positive pansexual woman who can't get enough of these books, trust me, you'll want to one-click and read the whole thing.
Fair warning: most of these are romances, so you know that the couple will get a happily ever after, but the scenes themselves may have some spoilers. (No plot points revealed that you couldn't find in the blurb on the back cover, but you've been warned nonetheless.)
We only include products that have been independently selected by Romper's editorial team. However, we may receive a portion of sales if you purchase a product through a link in this article.
This story is part of Romper & Fatherly's Sex Issue, The Moms & Dads Are Horny. Because it's Valentine's Day, and parents deserve good sex, too.