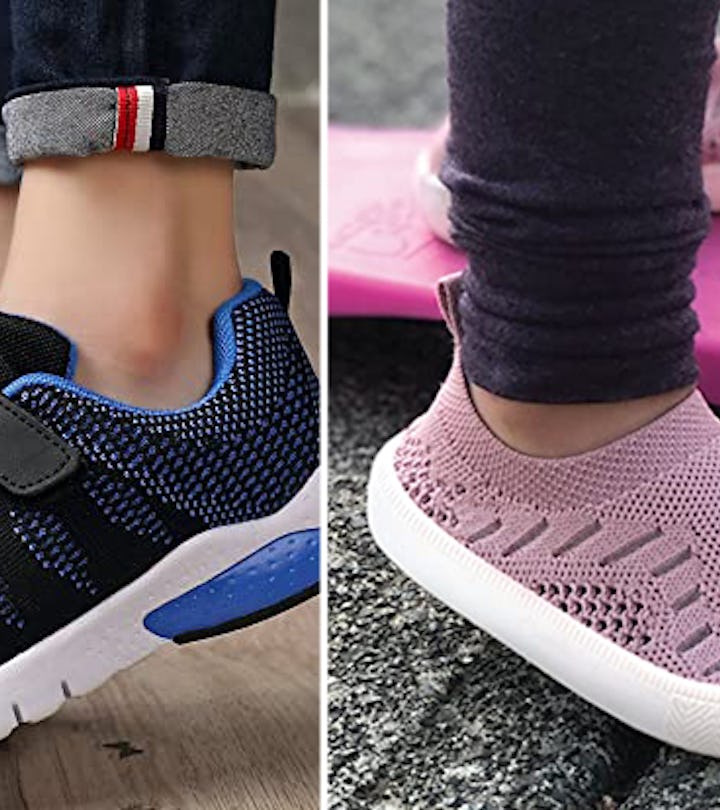 12 Durable, Sturdy Sneakers For Kids That Will Survive The School Year
Tough enough for recess, P.E., and playdates.
It's not about the characters. It's not about the colors. No, for parents, the key feature of kids sneakers is this: toughness. Finding sturdy shoes for kids that will last through the school year (or at least most of it, please) is the number one priority for parents. So, while you're shopping for back-to-school outfits, uniform staples, or simply expanding their wardrobe, here are some durable shoes for kids you'll be able to pass down.
What is it about kids and shoes? It's like they stick their feet in a new pair of sneakers and they start falling apart immediately. Maybe it's the miles they run around in them every day — oh, to have that kind of energy. It could be the hardcore play sessions every day in P.E. class and during recess. Coming home and riding bikes, doing parkour to freak Mom out... OK, it makes sense why the shoes sometimes disintegrate right off their feet.
Below you'll find some of the best shoe options for kids. They're highly rated (on Amazon) with lots of good reviews from fellow parents. You're sure to find a pair that'll satisfy your desire to not buy more shoes for a long time, and your kid's wishes to look extra cool at school.
We may receive a portion of sales if you purchase a product through a link in this article.
Did you find the perfect sturdy kids sneakers for your little scholar to wear back to school? If none of these shoes fit, browse Amazon and read those reviews for what parents have to say about other pairs.