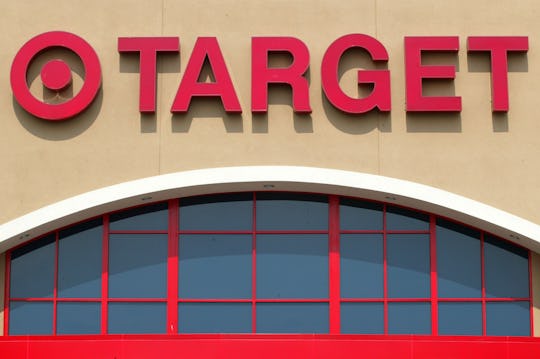 Alex Wong/Getty Images News/Getty Images
Stock Up On Winter Wonderland Supplies With Target's Wondershop Weekend Deals
Every year when families bust out their holiday decorations, they're faced with the same dilemma: Should they be frugal and make do with what they already own, or will the instant gratification of new sparkly stuff outweigh the cost? Luckily, Target's Wondershop is getting the Weekend Deals treatment at the perfect time: Right after Thanksgiving, when you're really itching to deck the halls and get this holiday season officially underway.
Target's Weekend Deals are different from week to week, as die-hard Target shoppers know. So while there are more promotions coming, this one is only good (both in-store and online) on Saturday and Sunday, November 24 and 25, according to the Target website. Still, if you can manage to get your holiday decor shopping done in those two days, you'll be able to replace whatever Christmas ornament casualties were lost to the far corners of your attic without blowing your budget: Spend $75 in Target's Wondershop (where you'll find all the store's holiday trimmings), and get $25 off your purchase total. Not bad!
So what's good at the Wondershop? Everything. You'll find all the things you need — and lots of stuff you'll want — from lights to trees to ornaments and garlands, plus family pajamas and pet outfits, outdoor decorations and more. Target really doesn't put a limit on the holiday-themed stuff you can score for $25 less than you normally would, so a post-Thanksgiving jaunt to your favorite store is probably in order this weekend (as if you weren't planning on going there anyway!). If you're wondering why this deal only lasts Saturday and Sunday, it's because that's when most people like to do their Target runs and the most people possible can take advantage of this deal. Kinda cool of them, right?
On my mind are some of the funkier selections, like the matching family pajamas. Every year, my partner and I toss around the idea of throwing some cash at a set so we can have a cool family photo, but tend to balk at the price once we start looking. Target, however, offers some super cool options that start as low as $5 and don't exceed $20 (like the adorable Santa family sleepwear pictured below), so this might be our year.
If you're aiming for a more more unified look for your home this year than what you'd get if you randomly bought whatever happened to strike your fancy, the Wondershop is offering six different design collections that will turn your house into the kind of coordinated holiday showstopper Martha Stewart would be proud of... and you can even buy Wondershop ornament kits including 85 ornaments to efficiently trim your tree in one fell swoop (full price is $100, but since that's over $75, you'd automatically get $25 off!). And check out how cute the "Merry Lane" themed ornament kit looks on a tree!
One stop at Wondershop this weekend and you'll be all set through the New Year.
Also, don't forget all the other exciting deals Target is featuring on Black Friday. With over 15 televisions under $300, 50 percent off select games and puzzles and much, much more, Target is a mandatory stop when you're shopping for the holidays. To keep things moving, the retailer is featuring all kinds options to get guests in and out with ease this year, like order pick-up, drive-up and mobile checkout. It really couldn't be easier or more to your advantage than to hit up Target's Black Friday and Weekend Deals in 2018, so get ready to get festive!
Season 2 of Doula Diaries shares the stories of fearless doulas helping their clients take control of their births and make tough choices that feel right to them. Watch the first episode of the new season Monday, November 26th.