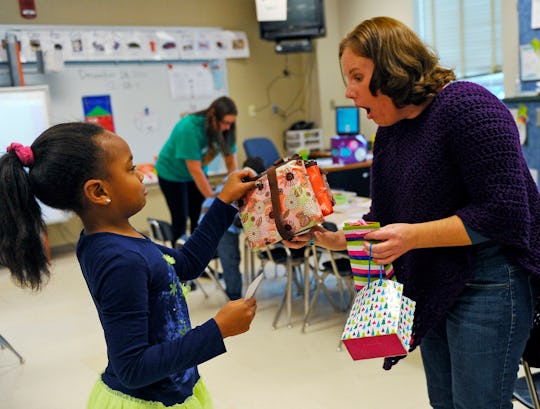 The Washington Post/The Washington Post/Getty Images
Educators Will Totally Appreciate These Teacher Appreciation Gifts
And there's not a single apple on this list.
We may receive a portion of sales if you purchase a product through a link in this article.
Teacher Appreciation Week is a great opportunity to not only tell a teacher how much they mean to you and your child, but to give them a little token to show how much you care. But please, skip the apple. Instead, take a look at these teacher appreciation gifts for 2023 that speak to their service, support, and well-earned need for a little R&R.
Rather than giving a teacher something they need, give them a treat, like a bespoke lunch bag or a some stunning glassware for an after-hours bottle of wine. Another great idea is to think "treat yourself" when shopping for educators. What's something that would really feel special that they might not splurge on? For instance, why not give a mini projector? Not only could they use it in class, it could be a great item for them to enjoy at home over the summer.
And when all else fails, let teachers decide what they'd like with a thoughtful gift card. Target cards are never a bad idea nor is shopping local for a card to a favorite area boutique. And don't forget a card. As any teacher would tell their students, words have power and nothing makes someone feel more appreciated than the simple statement: thank you.
Ready to shop for your favorite teachers? Use this list to give them something that really says we appreciate all that you do.
This article was originally published on