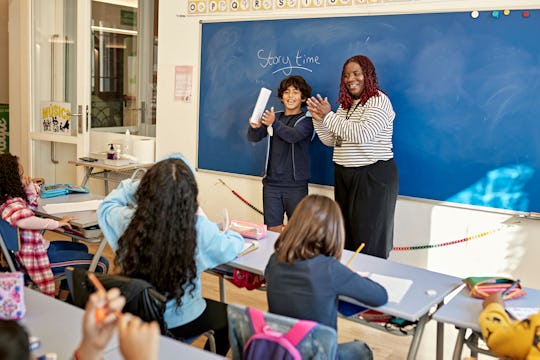 xavierarnau/E+/Getty Images
All The Freebies Educators Can Get This Week For Teacher Appreciation Week
Because educators deserve the best.
Mark your calendars: May 2 – 6, 2022 is Teacher Appreciation Week. A time for students and parents to share a big thank you to educators, it's also prime time for those in the classroom to get some Teacher Appreciation Week 2022 freebies. From Amazon to Vineyard Vines, brands are stepping up to say, "we appreciate you, here, have a 10 percent off… or a free burger … or insert item here." And don't they deserve it? Of course they do.
Another great way to show teachers some appreciation? Share this list with them. You might think all teachers would be fully aware of these Teacher Appreciation Week freebies, but not so. As the wife of a teacher, I can say for certain that many of these were not on our radar. So passing on this long list won't just give them a heads up this week's Teacher Appreciation Week 2022 freebies, but will also clue educators in on deals that run all year long, like discounts on clothing, tech items, and even moving vans. Given how much teachers give of themselves to students, they deserve to know about freebies they can take advantage of all year round.
So go ahead and take note of this list, post it on social or share it with your PTO to let all of those incredible educators know that even big brands believe in the work they're doing.
Want more Teacher Appreciation Week freebies? Here's a hot tip: ask. Some brands don't promote their teacher deals, so never be afraid to flash your school ID and say "Do you happen to have any Teacher Appreciation Week freebies or deals?" You might be happily surprised to discover they do.