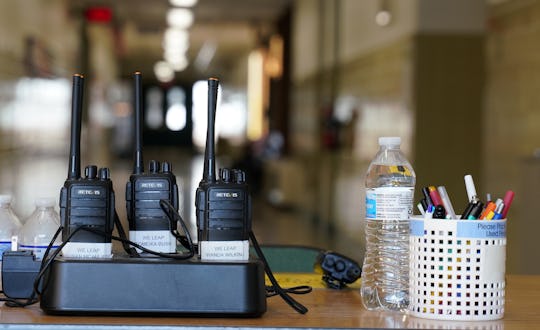 Jay Paul/Getty Images News/Getty Images
Teacher Shot By 6-Year-Old Student Told School He Had A Gun, Was Told To "Wait"
A lawyer for Abigail Zwerner claims admins "downplayed" the situation.
Not long before Virginia teacher Abigail Zwerner was shot by her 6-year-old student, she reportedly sent a frustrated text to a loved one. A source told NBC News that a text from Zwerner detailed her frustration that administrators at Richneck Elementary School in Newport News were made aware that the young student had brought a gun to school in his backpack, but did not act or help in any way.
Romper has reached out to Richneck Elementary School for comment and is waiting on a reply.
On Jan. 6, Zwerner reportedly went to school administrations to let them know that a 6-year-old student had brought a gun to school in his backpack. According to Zwerner's attorney Diane Toscano, three other teachers reported the gun to school administration as well to no avail. "The administrator downplayed the report from the teacher and the possibility of a gun," Toscano said at a press conference per TODAY. Even after a teacher reported that the student in question showed a student the gun at recess and "threatened to shoot him if he told anybody," still the administrator didn't act and instead advised around 1:00 PM to "wait the situation out because the school day was almost over."
Unfortunately, this did not work. The 6-year-old went on to open fire in his classroom, injuring Zwerner and sending her to the hospital. She and the student were alone in the classroom, per a police statement, and the shooting was not considered accidental.
According to the source who received a text from Zwerner, the teacher expressed in her message that she was "frustrated because she was trying to get help with this child, for this child, and then when she needed help, no one was coming."
Newport News Public Schools spokesperson Michelle Price released a statement about the situation, telling NBC News, "Anything that has been reported to our school leadership team in regards to concerns at Richneck from teachers and staff members is part of the investigation. It's being thoroughly investigated."
George Parker III, the Newport News school system superintendent, admitted in a town hall that at least one administrator was notified that a student was carrying a weapon, and yet area police services said they were not notified of the situation prior to the shooting.
In the first month of 2023, there have already been six school shootings in the United States resulting in injury or death, per Edweek. In less than one month. As of 2020, guns are now the leading cause of death among American children.