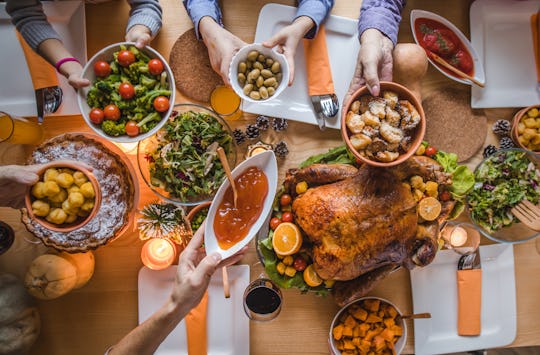 skynesher/E+/Getty Images
Every Tricky Thanksgiving Question You Have This Year, Answered By Experts
Because pumpkin pie versus pecan isn't your only concern this year.
The biggest issue my family tackled in Thanksgivings past was whether to roast our turkey or fry it. (My answer is to fry it. Fight me.) This year, the top question is how to celebrate Thanksgiving safely together. It's been such a long year apart, but should we even gather at all? What if we all get tested? I have so many questions, and I know I can't be the only one.
"This year we need to plan much ahead and take all precautionary measures as much as possible, especially if you are planning any travel or events at your house," Dr. Sunitha D. Posina, MD, board-certified internist in New York tells Romper.
But, what exactly do those measures entail? The Centers for Disease Control and Prevention (CDC) has released guidelines for safely participating in Thanksgiving activities amid the ongoing COVID-19 pandemic. Much like for Easter and Halloween this year, their list recommends skipping traditional large gatherings in favor of small dinners with only members of your household and socially-distanced, outdoor events with virus-mitigation measures firmly in place.
Even with this guidance, families may still have questions about how to safely participate in some beloved Thanksgiving traditions. Can your yearly game of front yard football happen? Should one person serve the food, or is buffet-style safer? Can my favorite Aunt Sally fly in from Nebraska?
Although the CDC has labeled specific activities like post-holiday in-person shopping and attending crowded parades as "high risk," that doesn't mean all hope is lost for celebrating Turkey Day with family. Read on to see what experts have to say in answer to some of the biggest — and most specific — questions about celebrating Thanksgiving safely.
Experts:
Brittany Anderson, The Bash
Dr. Natasha Bhuyan, One Medical provider and Regional Medical Director
Anita Kanti, author of Behaving Bravely: How to Mindshift Life's Challenges and founder at Anita K Solutions
Susan V. Lipton, MD, MPH, Chief of Pediatric Infectious Diseases at Sinai Hospital of Baltimore
Dr. Bita Nasseri, Los Angeles-based physician
Dr. Sunitha D. Posina, MD, board-certified internist and locum hospitalist in New York
This article was originally published on